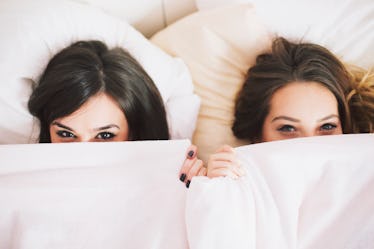 6 Twin Bed Sex Moves That Give Coming Home For The Summer A New Meaning
After a long school year and a seemingly endless mess of finals — coming home for the summer is the homework-free light at the end-of-the-thesis-paper tunnel. Whether you are just back for a weekend or you are spending the whole season at your childhood home, knowing the best twin bed sex moves can keep your summer love hot, even when you're at your parents' house (but hopefully when they're not!). Coming home for the summer can mean sleeping in, seeing old friends, and spending long days out in the sun. Of course, it can also mean finally getting the chance to get a little frisky with your hometown crush. If you've always crushed on that hot lifeguard at the town pool or your hometown hookup is looking extra cute — summer break can really be the time to get it on with an old flame.
No matter the season, discussing consent and intentions before having sex is always super important. Although it can be super sexy to turn up the heat in your childhood bedroom, you never need to do anything you're not comfortable with.
Here are six sex moves for a twin bed, for when you're home for summer and back in your old bedroom.