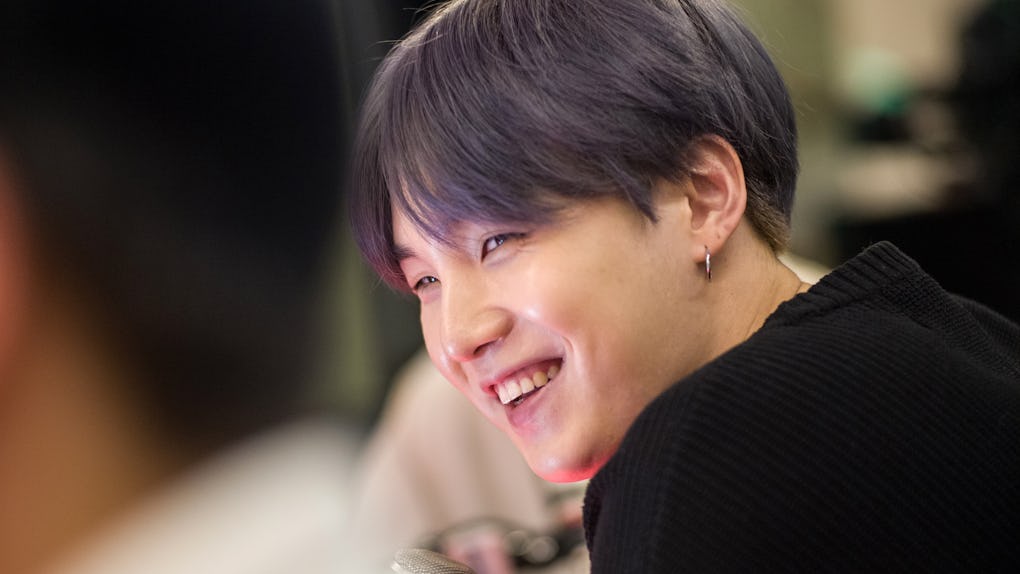 Steven Ferdman/Getty Images Entertainment/Getty Images
6 Times Suga Told BTS He Loves Them, Because He's Actually A Huge Softie
When some people think about BTS' Min Yoongi, aka Suga, the first word that comes to mind may be intense, or even intimidating. He is, after all, a super hardworking musician and producer, and has more talent in his pinky finger than I have in my entire body. Despite his tough exterior, though, I have a hypothesis: I'm 100% certain that Suga is actually a total softie. And I plan to prove this by showing you all of the times Suga has told BTS members he loves them.
I'm definitely not the first to point out Suga's under-recognized softer side, because the BTS ARMY has been onto him for some time. (I mean, come on, guys. ARMYs didn't give him the nickname "Lil Meow Meow" for nothing.) And even RM, Jin, J-Hope, Jimin, V, and Jungkook have brought attention to Suga's low-key affectionate nature.
Besides the ARMY, there's maybe no one Suga loves more than the other members of BTS. Makes sense, considering he's known them for so long and they've become like brothers to him. If you don't believe me, hear me out — here are six times Suga told BTS he loves them, whether he used those coveted three words or took a different approach.