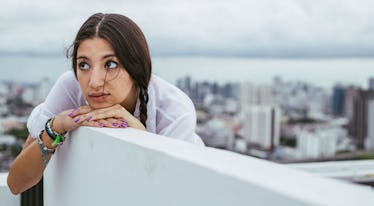 6 Things Not To Say To Single People, Because Please, We're So Tired
All right, y'all, honesty hour! I've been single for a long, long time. I'm usually the fifth wheel on group outings, I never get a plus one to weddings, and I've mastered the art of Tinder and all its dating app counterparts. None of these are things that bother me. I don't mind being single and I've actually grown quite fond of my own company, but people who don't know this about me often forget the things not to say to single people, and that's when my singledom starts to get to me. Not when I think about being single myself, but when other people point out the "negatives" to me. Like, OK, yes, I definitely want to hear about how my life would be so much more "fulfilling" if I had a boyfriend to buy me things! It's my favorite thing to talk about, keep it coming!
Real talk though, no one likes to hear unsolicited criticism about their lifestyle, no matter what it is. Thankfully, we're living in a mostly woke society where independence and singledom is not frowned upon (a concept!), but regardless, some people think it's their place — no, their duty! — to tell you why you're doing everything wrong and why they're perfectly qualified to tell you how to fix it. Thank you, thrice-divorced Aunt Mary, for feeling the need to tell me exactly how to keep a man and why what I'm doing (even when I'm doing nothing!) is wrong, all wrong. Will be sure to remember that next time I swipe right!
If you're reading this, in a relationship, and thinking, "Hmm, maybe I am too hard on [insert single friend's name here]," then you've come to the right place. Think about the following, all-too-common tidbits of "advice" that you might be giving your single friends, that they honestly, probably, just don't need or want. And if you are that single friend, then just laugh-cry with me at all the dumb things we hear on the reg.