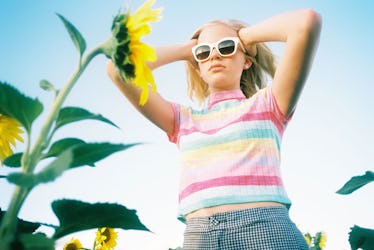 10 Instagram Captions For Solo Photos If You're Single & Loving Yourself
The one art form I like to think I've mastered is the shameless solo shot on Instagram. I know, I know, what a brag, right? But it's true, my solo posts usually get a decent amount of likes, so I can't be screwing them up that badly. Or maybe I am embarrassing myself on a monthly basis, but my loyal followers — aka friends — like the photos anyway because they have to. This pity is my own making: I believe that Instagram captions for photos of yourself should be self-deprecating AF.
When I post photos of just myself to Instagram, I often poke fun at the fact that I'm alone. In my mind, the dash of self-deprecation keeps the solo shot from feeling too serious. But lately, I'm rethinking my commitment to the self-deprecating caption. Because when I see a couples' post with a genuine caption, I'm usually on board. (Unless its saccharine sweet.) In fact, it seems like being in a couple gives you free range to post a bajillion photos without annoying anyone. (OK, that's a stretch, I follow at least thirteen annoying couples on the 'gram. That's a lot.) So why can't I, a single person, use a genuine caption on a photo of myself?
So let's reclaim the shameless solo shot. At a wedding alone? Cool! Post that picture of you and your date, Mr. Veuve Clicquot. On a solo trip? You better be posting. Just feeling yourself? Go girl. (Just say no to daily selfies, though.) And here are some captions to help you own.