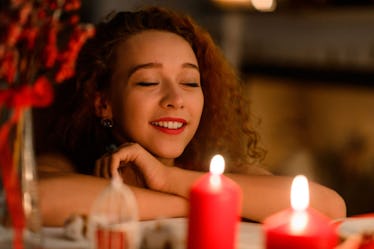 These 6 Thanksgiving Foods Can Make You SO Sleepy & None Of Them Are Turkey
Look, I'm not going to pass up the chance to eat my favorite Thanksgiving foods, even if they have the potential to send me into a mega napping session. I care too much about the traditions, the amazing flavors, and the time spent catching up with family to worry about which Thanksgiving foods make you tired, and whether or not a slice of pumpkin pie will cause me to pass out on the coffee table. But if you're looking to reduce your post-meal sleepiness a little on Nov. 22, you could always make a point to only eat as much as you're truly hungry for, and save some leftovers for the next time you're feeling peckish.
"To some extent," Kim Yawitz, a registered dietitian/nutritionist in private practice in St. Louis, Missouri, tells Elite Daily in an email, "drowsiness from turkey, carbohydrates, and other foods can be minimized by eating in moderation."
But listen: If you want to go all out on Thanksgiving and feast until you simply can't eat another bite, more power to you, girl. A different strategy to keep yourself from dozing off in the middle of a conversation with your cousins might be to simply get up and move around a little. "One of the best things you can do is to get moving, ideally within 30 minutes of your meal," Yawitz suggests. "This will help lower blood sugar, aid in digestion, and get the blood flowing. Volunteer for dish duty, or suggest a 15-minute group walk after your meal." And hey, once your food has had a chance to settle in your belly, you might even have room for one last slice of pie.
You might be quick to blame turkey for your marathon nap after the big meal, but according to Yawitz, it probably isn't the main culprit behind your sleepiness. While the meat does contain an amino acid called L-tryptophan — which, she tells Elite Daily, breaks down in your body to the sleep-inducing chemicals melatonin and serotonin — "turkey is no higher in tryptophan than many other foods we eat, including cheese and other types of meat." So, if turkey were to blame, Yawitz explains, "we'd get tired after eating other protein-rich meals as well."
Having said all of that, here are a few of the Thanksgiving foods to watch out for if you'd like to stay alert and energized throughout the holiday festivities.