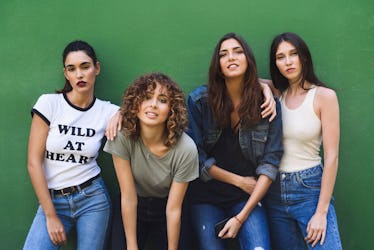 6 Surprising Ways My Friendships Have Changed In My 20s For The Better
Guille Faingold, Stocksy
I wholeheartedly believe that the friendships I have are the most important things to me. A true friend can turn into family, and that's when they become the forever type. As the years pass by, I've noticed that there are surprising ways my friendships have changed in my 20s for the better. It's been the same crew since day one, but we've evolved into adults navigating our 20s together.
Adulting definitely has its impact — because the struggle can be real at times — but there's so much more to it than that. It's the perfect combination of growing up, plus time spent making new memories together, which equals a thriving friendship that experiences change. And these changes aren't bad, either.
If there was a 10-year challenge for my squad, you'd notice these six differences between where we started and where we are now. I love my crew so much, and can't wait to see what our 30s, 40s, 50s, and so on have in store for us. You may be going through something very similar with your own crew, and notice these things as well. Just know that your crew may go through some changes, but they'll make your bond stronger than ever.