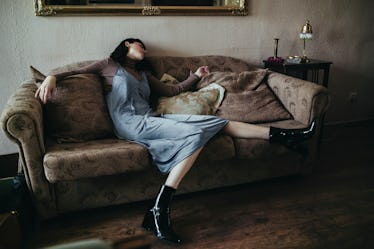 6 Easy Stretches You Can Do From Your Couch Right After Thanksgiving Dinner
It's at about 6 p.m. on the night of Thanksgiving, while I'm enjoying my annual viewing of Miracle on 34th Street, that the turkey-and-pie bloat begins to descend upon my body in all its glory. While some people go for a nice walk to start the digestion process, I usually have less than zero interest in moving from my living room. I'd much rather do some stretches for bloating right from my own dang couch when I need a little relief.
Yes, you read that correctly. I have developed a way to both stretch my body and potentially help the process of my digestion, all while continuing to stay in full holiday relaxation mode. Sometimes I even go next-level with my hedonism, despite how counterproductive it may seem, and I keep a little plate of pecan pie next to me so I can reach for a bite between stretches.
If you're like me and your plan this Thanksgiving holiday is also to stay relatively inert, at least for a few hours — while still combatting what my father always referred to as the "turkey tummy mulligrubs" — then feel free to borrow a few of these stretches. Because doing next to nothing is what the holiday seasion is all about, amirite?