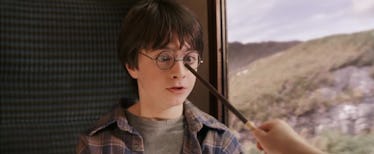 6 Reasons Why 'Harry Potter' Movies Are The Best To Watch On Winter Break
There are many popular movies that stole our hearts in childhood, but only a few are as beloved as Harry Potter. The boy who lived and his adventures have been around for almost two full decades, which is basically your whole life if you're in your 20s. It's a sin to not have seen these movies, and to admit as much will result in many bug-eyes and gasps. But whether it's your 200th time watching them or you've only just started, there's just something about the holidays that almost commands the Harry Potter saga be watched. From the story, to the lovable bunch of friends that is Harry, Hermione, and Ron, it's no wonder why Harry Potter movies are the best to watch during your winter break.
From going to midnight showings when I was young enough to have a bedtime of 8 p.m., to not being able to put down each book in the series, Harry Potter has been at the top of my "most loved movies" list and will stay there for the foreseeable future. While newer versions of that universe are coming out in the form of Fantastic Beasts and Where to Find Them, there will always be something iconic about the series that started it all and the characters we've grown to love. Even though Harry Potter weekends are coming to an end on FreeForm, with the last one ever happening this weekend from Dec. 28 to 31, you can always play it on your own and winter break is the perfect time to do so.