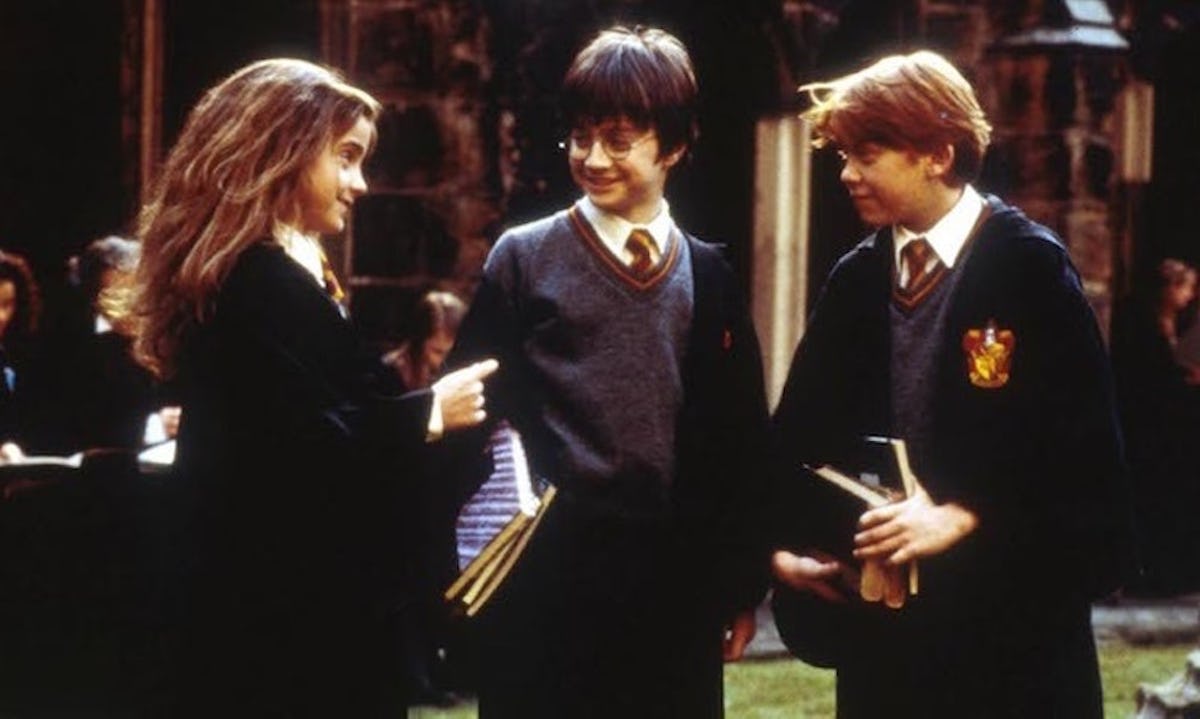 'Harry Potter' Weekends On Freeform Are Officially Over, As If 2017 Couldn't Get Worse
Warner Bros.
Sing it with me now. It's the mooost wonderful tiiime of the yearrrr. Wait — what? Harry Potter won't be on Freeform anymore? It was totally my thing to curl up and watch those marathons. It was your thing, too? No! No. According to Collider's confirmation, the Freeform network has lost rights to the beloved franchise, so plan accordingly. Deck the halls all you want and down the figgy pudding, but know that some things will never be the same. Bah humbug?
Over the years, fans have gotten used to the Freeform (formerly ABC Family) and Harry Potter's partnership — we can't remember a time when the movies and the network didn't go hand and hand. A marathon just seemed like a given that was always almost just around the corner. Well, now that NBC Universal has an exclusive HBO deal, Harry and Freeform's time together will come to an end on Jan. 1, 2018.
Freeform is one of the go-to channels for holiday entertainment. Its "13 Nights of Halloween" is an essential lead-up for getting pumped for Oct. 31 and the "25 Days of Christmas" slate is a small screen winter wonderland we look forward to every year. We can't tell you how many times we've practically been swallowed whole while engaged in an all-day indulgence of non-stop Christmas favorites. But we'll sure miss their cozy Harry Potter binge-fests, commercials and all.
Entertainment Weekly reports that Freeform's Harry Potter movie marathon swan song will be Dec. 28 to Dec. 31. Happy new year! Then it's Potter no more for Freeform. Paging J.K. Rowling? Help?
NBCUniversal struck a deal with Warner Bros. back in Aug. of 2016 that gave them exclusive TV rights to the Potterverse movie catalog until 2025. "Having all of these films in one place builds upon the existing relationship we already have with NBCUniversal and J.K. Rowling's Wizarding World, and creates many exciting new opportunities across multiple platforms for both our companies and the fans of this franchise," president of Warner Bros. Worldwide Television Distribution Jeffrey R. Schlesinger stated about the acquisition.
Now here's the good news before you start wondering what that all means right now. If you need your wizarding world fix whenever you feel like it come the start of next year, HBO will begin streaming all eight Harry Potter films come Jan. 1, 2018. So there. HBO is even starting things off by airing all the movies consecutively on the first of the month in what appears to be a welcome-to-your-new-home kinda move. It all starts at 9 AM and concludes with Fantastic Beasts and Where to Find Them because, yeah — that actually makes a lot of sense. Sweet.
As for Freeform, the great thing is that 2017's 25 Days of Christmas lineup is pretty epic, so you can ease into the end of the month with plenty of good cheer and swirly twirly gum drops. There are a heaping handful of Elf showings scattered throughout to make your December even brighter, not to mention Tim Burton's The Nightmare Before Christmas, The Santa Clause, and even a Toy Story marathon. Turn it on at any point and you probably will not be disappointed.
And now that one of their original signature programs, Pretty Little Liars, has officially said its goodbye there's also room for new Freeform TV shows to get obsessed with in 2018. Grown-ish, Alone Together, and Siren are all part of the anticipated midseason schedule.
Even though Harry Potter is leaving the comforting arms of Freeform, there's plenty of room for you to make new traditions there. And it's not like he's going very far. Change isn't always necessarily all bad, even when it comes to fan favorites.