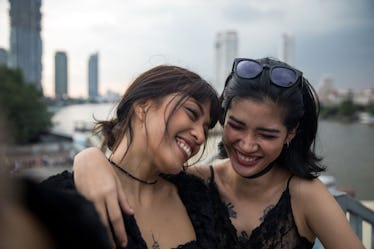 You Can Buy These Products With Your BFF's Face On Them For A Personalized Gift
Your best friend is a friend for life, which means there is absolutely no questioning your loyalty to one another. Through thick and thin, your BFF is the keeper of your deepest, darkest secrets, and they probably knows your Starbucks order like the back of their hand (that last part is a sign of true friendship). Now, you can show your love for your bestie in the biggest way possible by putting their face on a personalized item of your choice. Here are all of the products you can get with your BFF's face on it, because it really is the best gift of all.
Sure, you could buy your bestie a gift card to their favorite store or take them out for dinner, but who doesn't want to be plastered across an air freshener or couch pillow? Sounds like quite the honor, if you ask me.
In order to get the ball rolling, you should start by rounding up your favorite digital photos of you and your BFF, and make sure they are high-resolution images. If you use low-quality photos, you and your pal may look pixelated and stretched out when printed. I mean, if there's any place you want to look your very best, it's on an air freshener or luggage cover.