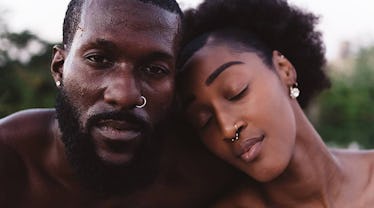 6 People Who Were Divorced In Their 20s Reflect On What Went Wrong, & Ugh, It's Rough
It's 2018, and divorce is common AF. Unfortunately, knowing that so many people have dealt and will deal with divorce rarely makes it easier. When most people think of the typical divorcé, they usually don't think of people divorced in their 20s. But divorce is something that affects everyone, not just an older demographic.
There are plenty of valuable takeaways to be gleaned about long-term relationships from people in their 20s who've dealt with divorce first-hand. While it may be a downer to talk about, it's important to realize that making such a huge commitment, while the majority of your peers are still developing their goals and visions for the future, isn't for everyone or for every relationship. This doesn't mean that couples who decide to get married young aren't ready — you can totally have a long, happy marriage, no matter what age you tie the knot. But for those who have found that to not be the case, the good news is that every experience, no matter how painful, presents the opportunity to reflect and grow.
Failed relationships happen for a bunch of different reasons. Maybe both partners rushed into marriage without fully thinking things through, maybe they grew apart, maybe the incompatibilities were there from the start, or maybe the relationship just wasn't meant to be. Regardless of the reason, divorcing young is nothing to be embarrassed about. If anything, it's a badge of honor that basically means you've lived through a difficult experience and have come out the other side that much wiser. Here are some perspectives from people who got divorced in their 20s, and what, for them, went wrong.