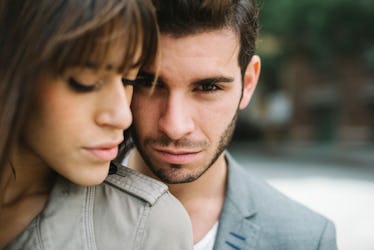 How These 6 People Tried To Hide Their Infidelity Will Literally Make Your Jaw Drop
Have you ever been caught cheating? Your blood pressure drops, your heart pounds, and you start to sweat. Your mind, in fight-or-flight mode, goes into overdrive as you try and come up with the best possible story you can tell as quickly and convincingly as possible. Or, ahem, so I've heard. Anyway, some of those stories are diabolically clever enough that you don't end up getting caught slipping, but most are pretty weak and so, they fail. So, when people reveal how they tried to hide their infidelity on Reddit, you know it's going to be juicy — and shady AF.
There are whole subreddits dedicated to how to cheat and get away with it, but as proud as folks are of their cheating skills, they are less likely to brag about the things they did to try and get out of trouble when all those tactics failed. That's usually when it's time to employ some drastic measures. Since the tactic of, you know, not cheating in the first place is clearly not an option, here's what some folks on Reddit said they did when they almost (or actually did) get caught cheating, and how they plan to avoid getting busted in the future.