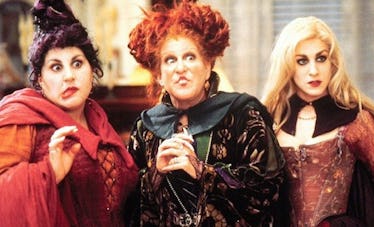 6 Nostalgic Halloween Costumes So You Can Channel Your Inner Child
Disney
Halloween is the one time of year where you can act like a kid. On whatever day can you you go into a professional setting dressed up like a princess, a dragon, or Eleven from Strangers Things and get applauded for your efforts? Considering the holiday is all about playing makebelieve, why not go back to your childhood roots for inspo? There are at least 6 nostalgic Halloween costumes perfect for channeling your inner kid. Let's get in our imaginary time machines and turn back the pop culture clock.
No matter what decade you were growing up in, there are entertainment memories from youth that just can't be shaken. I'll never forget the first time I saw Ariel sing "Part of Your World" or the opening frame of Harry Potter and the Sorcerer's Stone — some moments just stay with you. Honoring a TV or movie milestone from childhood is the perfect Halloween concept! From Disney to Nickelodeon to '90s teen movies, there's so much to draw from in the overflowing nostalgia vault. Here are just a few suggestions for capturing the magic of the big and small screen of yesteryear. Not come prepared? As if!
The Sanderson Sisters from Hocus Pocus
Red Hair with Heart Style Cosplay Costume Wig, $27, Amazon
Floor Length Cosplay Retro Long Dress, From $30, Amazon
Spirit Halloween Sarah Costume, $50, Amazon
Spirit Halloween Mary Costume, $50, Amazon
I mean, come on. Name a more legendary Halloween movie from the '90s that's kid friendly. Hocus Pocus is as crucial to fall as pumpkin spice. Put it on and you'll smell the crisp air even if it's still 88 degrees out. Take a page from their spell book this Halloween.
Arthur
Nano Crew Sweatshirt, From $7, Amazon
Retro Round Glasses Frame Clear Lens Fashion Circle Eyeglasses, $13, Amazon
Animal Ears Headband, $12, Amazon
"And I say, HEY! What a wonderful kind of day." Arthur is back due to his meme-able moments and those Chrissy Teigen shout-outs, but did he ever really leave? Only issue is you have to keep your hand balled up in a fist the entire night.
Cher and Dionne From Clueless
FunCostumes Exclusive Womens Clueless Cher Costume Set, $60, Amazon
Clueless Dee Womens Costume, $60, Amazon
Cher and Dionne represent pop culture in the '90s. If you want to roll with the homies in throwback style, they're your girls.
The Rugrats
Sun-Staches Rugrats Tommy Party Supplies, $10, Amazon
Goodthreads Men's Short-Sleeve Crewneck Cotton T-Shirt, $13, Amazon
Rubie's Costume Co. Men's Splat Rugrats Chuckie Finster Costume Top and Headpiece, $21, Amazon
Nickelodeon Women's Rugrats Angelica Union Suit, From $21, Amazon
The Rugrats were the coolest babies around. Show some respect.
Carmen Sandiego
Women's Autumn Winter Double-Breasted Long Woolen Coat with Belt, From $25, Amazon
Women Wide Brim Wool Fedora Panama Hat, $18, Amazon
You don't have to wonder where in the world she is, because you can be her. Those who watched this show back in the day learned a lot of their geography knowledge from Carmen and company. Good thing it's coming back.
The Doug Crew
Men's Casual Slim Fit Knitted V-Neck Sweater Vest, From $22, Amazon
Doug I am Skeeter Lightning Bolt Red Adult Costume T-shirt Tee, $20, Amazon
Polka Dot Pullover Tee, $14, Amazon
Retro Party Hair Wig, $25, Amazon
Doug Funny quite literally had a closet of the same outfit, which he wore every day of his documented adolescent life. Have khaki shorts and a white tee? All you need is that snappy green sweater vest. I'd buy one size up. For Skeeter, a lightening bolt shirt is the key. Patty Mayonnaise? She's all about the polka dot life.