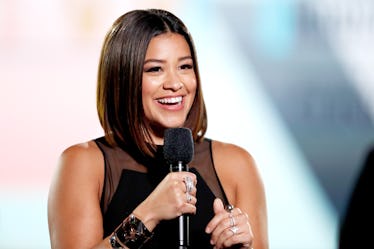 Gina Rodriguez Will Play Carmen Sandiego In Netflix's Live-Action Movie & We're Obsessed
Rich Polk/Getty Images Entertainment/Getty Images
If there's anyone in Hollywood who is keeping busy in 2018, it's Gina Rodriguez. When she's not filming her hit CW show Jane the Virgin, Rodriguez oversees projects with her production company I Can and I Will and recently starred in the sci-fi movie Annihilation. Although she was already booked to star in an animated reboot of the Carmen Sandiego series on Netflix, Gina Rodriguez will now play Carmen Sandiego in Netflix's live-action movie. Fill up that calendar, girl!
The Hollywood Reporter confirms that, while Netflix's animated revival of the original '90s series is due out next year, the streaming service will now produce a live-action feature adaptation of Carmen Sandiego. Clearly putting a lot of faith in Rodriguez's interpretation of the character, Netflix has announced that she will also star in the live-action film. I Can and I Will Productions will also produce the film, which stems from the original educational computer games that first introduced Carmen Sandiego's thieving ways and a detective agency's quest to track her down.
While the computer games and original TV series aimed to teach kids about geography, it's unclear if the feature film will include this interactive element of the source material. Carmen Sandiego's background is also famously vague, which could lead to the Netflix movie focusing on her origin story.
However, in a May 2017 interview with Vibe, Rodriguez revealed that the animated Netflix series would focus on Carmen's background:
So, it is the origin story of Carmen Sandiego. It is so tight, so well written. It's unbelievable... It is going through the story of Carmen Sandiego, her origin story and why she's such a bada** — she's like a Robin Hood thief... You can expect a really, really good series. Really well read and well written. You know how Netflix be doing, they just don't disappoint. We have really great partners for the illustration. It is going to be a really awesome journey. And still geographical, still giving you education and history. So, it's pretty tight. A little old school Carmen Sandiego, but you're going to learn some things, like I did. In a very entertaining way.
With such a detailed premise promised for the animated series, the plot of the movie has yet to be announced. Despite what feels like an endless amount of Carmen Sandiego merchandise and shows, the franchise has never done a proper film, leaving space for plenty of plot possibilities. In 2011, there were plans for Walden Media to produce a Carmen Sandiego film starring Jennifer Lopez, but that clearly fell through.
Although there's always the risk of both of these projects being a bit of a Carmen-overload, fans of both Rodriguez and the original Carmen Sandiego games seem to be thrilled about the casting news.
Deadline describes the upcoming movie as "a standalone Carmen adventure that will embrace the beloved '90s series." No writers or directors for the project have been announced yet, but in the meantime, Rodriguez will star in and produce a romantic comedy, Someone Great, for Netflix. At this rate, all this gal needs is a TV deal with Reese Witherspoon and she will literally take over all of Hollywood.
Set to begin production this April, Someone Great will star Rodriguez as a woman who explores New York City with her best friends following a break-up. She feels compelled to chase after these urban adventures before moving across the country for her dream job. It sounds like that movie can definitely hold me over until we find out more about the Carmen Sandiego movie.
if you managed to miss out on anything Carmen Sandiego while growing up, catch up by listening to the theme song to the '90s series Where in the World is Carmen Sandiego?.