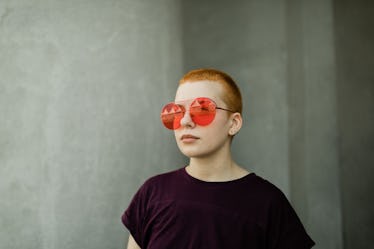 You've Probably Fallen For These 6 Myths About Tampons, But Here's The Truth
Putting in my first tampon was honestly an awful experience. I was, quite frankly, pretty ill-informed on all things related to menstruation, so when the time came to insert a mysterious piece of cotton into my vagina, I shoved it up there so crookedly and painfully that I wound up opting for pads for years after the fact — and yes, I'm still a little scarred by the whole thing to this day. Of course, my experience is just one of many tampon-insertion-gone-wrong stories, and perhaps that's because there are a whole lot of myths about tampons floating around out there. With that said, I think it's about time to set things straight, people.
Before I dive into some of those myths, though, it's important to note that tampons aren't, of course, the only options in terms of feminine hygiene. According to data from the United Nations and the Simmons National Consumer Survey, about 39 million women in the U.S. used tampons in 2018, while roughly 61 million women in the U.S. used sanitary pads and napkins. And even though there don't appear to be statistics that detail the use of other feminine hygiene products, such as menstrual cups, a Canadian study published in the medical journal Canadian Family Physician found that, out of of 47 women who said they usually use tampons during their period, 91 percent of the participants, who all tried menstrual cups as part of the research, said they would continue to use the cup and recommend it to others, even after the study was over.
Like I said, there are so many options to choose from during your time of the month, and it all comes down to what you personally are comfortable with. But, if you do opt for tampons, Maria Markina and Allie Griswold, co-founders of the tampon subscription service Athena Club, are here to bust some of the myths you may have heard about these products.