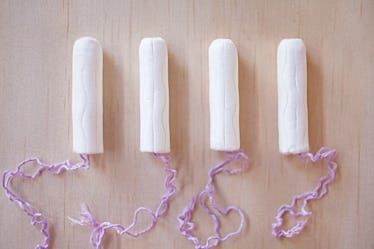 This Company Is Working On A Reusable Tampon Applicator & It Sounds Kind Of Genius
You already have enough to worry about when it comes to dealing with that time of the month, every month. Between painful cramps and unshakeable fatigue, I'm willing to bet the last thing on your mind is what your tampon applicator is made of, let alone where that thing ends up when you leave the bathroom. But with DAME's reusable tampon applicator, you'll never have to worry about it one bit.
Teen Vogue reports that a company called DAME shared the news of its product — simply called "D" — through its official Kickstarter page. Much like its name, the concept behind D is simple and straightforward: It's a tampon applicator, but it's reusable. If, at first glance, that sounds a little sketchy, and potentially unsanitary, fear not: According to DAME's Kickstarter page, D "uses self-cleaning technology so you can enjoy the comfort of an applicator without the plastic waste."
In an interview with Fast Company, DAME co-founder, Celia Pool, described the product,
One of the goals was to make something that looked beautiful, that looked well designed, that fit in with this modern woman who has all sorts of other technology in her bag. We didn't want to go down the pink and fluffy route, and we didn't want to go down the black sex toy route, so we looked at ranges of colors.
To say the least, Pool and her partner, Alec Mills, nailed it. The design is sleek, modern, and looks super easy to take with you wherever, whenever.
According to DAME's Kickstarter page, Pool and Mills used to sell period products to customers in the UK, but once they realized "the enormous waste coming from these small everyday items," they started to sell more reusable alternatives through their brand — except, apparently, no one would buy them.
The Kickstarter page explained,
We dug deeper and discovered that the habit change was one of the biggest barriers to women switching to more sustainable alternatives. We wanted to make it easy.
And thus, D was born. Working with a team of medical engineers, Pool and Mills created a product that's "not only hygienic, but the most comfortable applicator you'll ever use," thanks to its "semi-matt finish" on the outside, and its "antiseptic and antimicrobrial characteristics" on the inside, which help keep things clean and sanitary.
Using D looks pretty easy, as the product is made of just two parts. Simply remove the lid, stick your tampon inside, pop the lid back on, and insert your tampon as you normally would. D has that same, petal-like opening at the top that many tampon applicators have, so if you're already accustomed to the usual tampon brands on the market, using D should feel no different. But instead of tossing it in the trash when you're done, all you have to do is wipe it down, rinse it, and you're good to go.
D tackles a huge issue in the period industry that typically doesn't get a lot of attention.
You're probably already familiar with the environmental issues concerning plastic waste, and how much of it is thrown in the trash, rather than properly recycled. But an important, and often overlooked part of that has to do with period products: In 2010, Slate reported that, in her lifetime, the average woman likely throws away somewhere between 250 and 300 pounds of period-related products, like pads and tampon applicators. And, as The Daily Beast points out, those numbers aren't really seen as "a big issue for environmental groups," meaning not a whole lot is being done about it.
But the thing is, while a lot of environmental issues are difficult, if not nearly impossible to solve, this one really isn't. Even though tampons with plastic applicators may usually be front and center in the feminine care aisle of your local pharmacy, there are other alternatives that are more environmentally friendly, like menstrual cups, organic and biodegradable pads, and plastic-free tampons, just to name a few.
What DAME is looking to bring you is simply another eco-friendly option to consider. But what they seem to uniquely understand is this: You don't really want to change your habits when it comes to taking care of yourself during your period. Many women prefer using applicators when given the choice between that and applicator-free tampons, and if you're one of those women, D seems to strike that middle ground between giving you exactly what you want, while still keeping an eye out for dear ol' Mother Earth.
D isn't available in stores just yet, but for now, you can help back DAME's Kickstarter page and receive the product with your pledge.