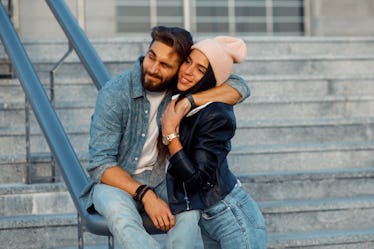 6 Personality Types That Want Long-Term Love, Not Short-Term Rewards
Shutterstock
Put plainly: There are a variety of different approaches you can take when it comes to relationships. Some may enjoy hopping from one to the next, reveling in the novelty and excitement of connecting with different kinds of people and experiencing new things. Others, however, may be more likely to seek out solid partnerships that they feel confident will last. The Myers-Briggs types that want long-term love are those that value commitment, and may be more likely to see relationships as an opportunity to grow and evolve, rather than a fleeting thrill.
Just to be clear: There is no right or wrong way to approach your love life. There can be pros and cons to each way of doing things, and the important thing is finding other people who share your romantic outlook. This is especially true for personality types who crave long-term relationships. Only when they date individuals who are on the same page can they feel secure — and moreover, fulfilled.
It can be useful to know which types are looking for serious, lasting commitment because this insight may enable you to not only identify your own needs and desires but also to evaluate potential partners with a deeper understanding of your compatibility. Curious about which personalities shun the idea of short-term romances? Here are some types that play the long game.