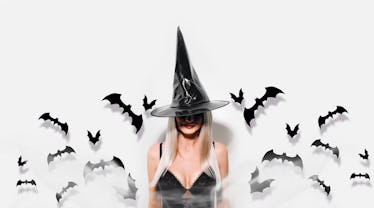 6 Extremely Last-Minute Costumes You Can Make At Home Within Minutes
"I have nothing to wear" is a typical phrase I utter to myself often. Whether it's for a night out on the town, right before I head to work, or even before I head to a 9 a.m. class (because lord knows I got out of bed 20 minutes before), you can guarantee I'll be saying it. However, it's a whole other dilemma when said during Halloween time. Costumes are quintessential to All Hallows' Eve, and it's all about what you want to put into it. Do you want to be scary and gory? Or sweet and cute? And the great thing is, you can be whatever you please. With so many choices, this whole "nothing to wear" mentality feeling is almost inevitable. But, luckily for you, we put together a list of six last-minute costumes you can make at home in a matter of minutes.
Some people take weeks (or longer) to plan an outfit, while others just splurge at a Halloween store. But if you're one of the many who think about it off and on, but then find yourself with nothing less than a week before, you're not alone. But you're also not without hope!
We have a ton of stuff in and around our homes that can be used as a Halloween costume. Almost any idea can be concocted up with items you already own. Here are a few to get you started, but the list can always extend beyond this with help from your imagination.