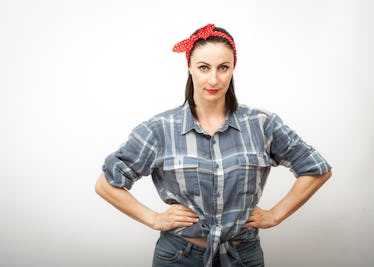 8 Last-Minute Costume Ideas With Jeans, For The Lazy Girl In Us All
We all plan on having an epic Halloween costume our friends will be impressed with, but quite honestly, the pressure can be too much. Most of the time, we end up procrastinating until the very last minute. It also doesn't help when we're invited to multiple parties and don't want to be a costume repeater. As a lazy girl, I can totally understand the need to throw something together from what you already have in your closet. You want to be creative, but also want to be comfy, which is why last-minute Halloween costume ideas with jeans are your best bet.
Look, you're not that lazy. You already have half a costume ready when you know you're going to wear jeans. Now, we just need to figure out the rest of the outfit. Don't sweat it, because we have you covered with these eight Halloween costume ideas. We've all been there, and are here to help a sister out. No one wants to be stressing over the perfect costume when you've got candy and Pumpkin Spice Lattes on the brain, amiright? With these Halloween costume ideas revolving around your fave pair of denim, you can walk into whatever party you're attending knowing you're one witchy woman who looks fabulous. The best part about it is that you barely lifted a finger to put it all together.