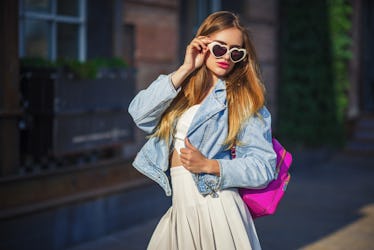 7 Cute Halloween Costume Ideas That Revolve Around Your Fave Denim Jacket
Aside from a little black dress, a denim jacket is one of the most reliable items of clothing that we can have. For Halloween specifically, a denim jacket can complete some of the cutest costumes while you remain comfortable and feeling accomplished. Well, it's time to take these gems off the hangers and out of the closet. Halloween costumes with a denim jacket couldn't get any easier, and we are here for the way it promotes our DIY, entrepreneurial spirit.
Despite the fact that the weather might be a little chillier for Halloween, a denim jacket is a surefire way to show that you aren't letting anything get in the way of your festivities. Why does denim make us so bold? Maybe not as bold as Justin Timberlake and Britney Spears in their denim outfits at the 2001 American Music Awards, but we are harnessing our own fashionable fierceness.
Denim jackets just give us all the feels, and their very existence reminds us about a time or memory that we wish we could relive. Oh, denim... why must you make us feel so damn good? It's almost unfair that we can't freely wear you every single day. And since we probably spent all summer not wearing our denim jacket, Halloween is our chance to make up for lost time. So, if you're ready to swiftly throw that denim jacket over your shoulder, there are a few costumes that'll accompany that action perfectly.