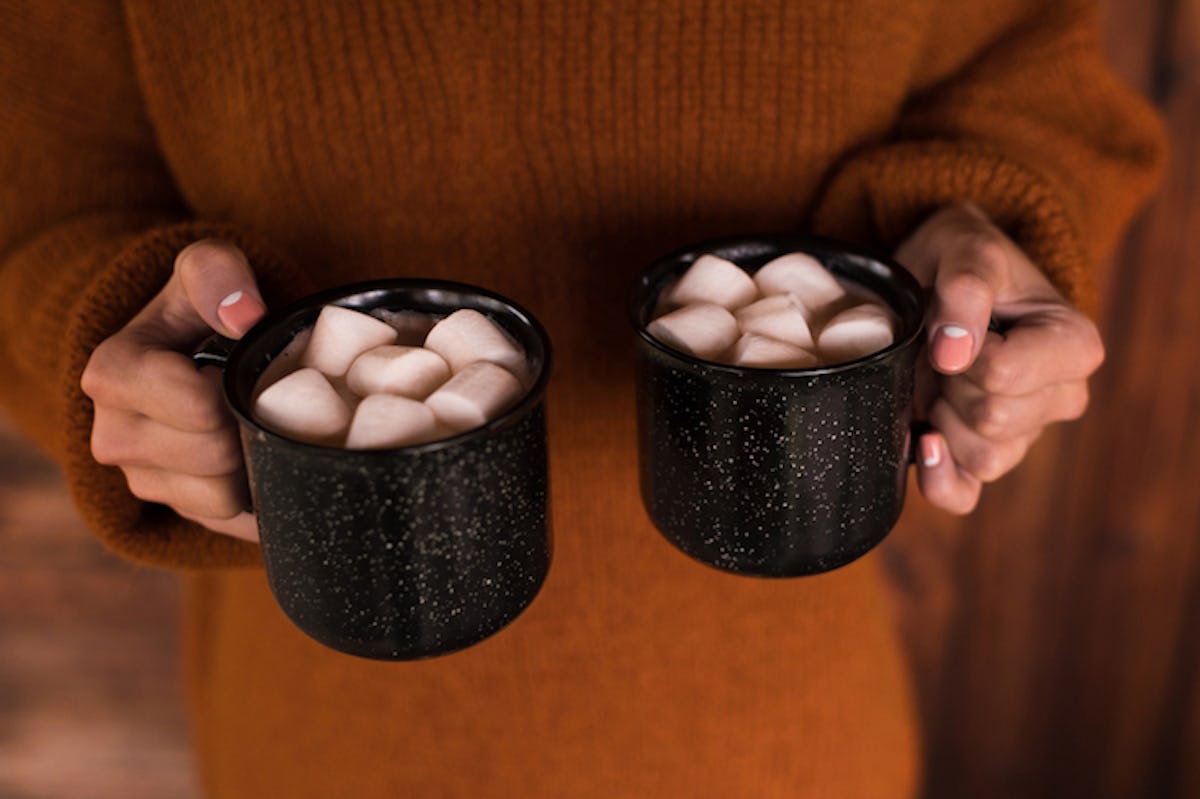 6 Indoor Dates You Should Try When You're Legit Worried About Getting Frostbite Outside
Anyone who's shoveled their car out of the snow at 6 a.m. knows that winter is only perfectly romantic and glamorous on TV. In reality, the snow is more often not white than it is white — think various shades of grey and yellow — and your trendy, Pinterest-inspired winter outfit isn't nearly warm enough to ensure your survival. Seriously, every day the sun gets off work before you do, it takes a piece of your heart with it. To make things worse, you're forced to brainstorm fun indoor dates during the winter because you're legit worried about getting frostbite the minute you step outside.
Some people swear that the holidays are the best time to get into a relationship but being in a relationship doesn't mean you stop going on dates. Sure, you can both agree to go into hibernation for three months but I'm pretty certain that's bad for your health. You're going to need some form of physical activity (other than sex, of course) and mental stimulation if you intend on making it to the spring.
So what do you do when it's freezing outside but you still want to plan a cute date for you and your partner? You get creative.
1. Do the couple's yoga challenge.
You don't have to be especially fit to try this. In fact, it would probably be way more fun if you aren't. The couple's yoga challenge is a series of yoga poses meant for two people that require expert levels of cooperation and trust. It's fun and flirty and will definitely warm you up on a cold, winter night. If you're feeling adventurous, share your hilarious attempts online and challenge your friends to try it, too. If the rumors about cuffing season are true, you're probably not the only couple in your friend group looking for creative, indoor date ideas.
2. Create your own scavenger hunt.
I once entered a "sexy" scavenger hunt for couples on a cruise ship and it was honestly the most fun I had the entire time I was on board. The underlying premise of the game was that each clue referred to a hidden article of clothing the other person would have to find. If they ran out of time, they would have to surrender an item of their own. The end goal here is clear; think of it as strip poker but with way simpler rules.
3. Take an online quiz. Take all the online quizzes.
Find out all there is to know about your partner by subjecting them to a night of online quizzes. Everyone knows about the 36 questions that lead to love but what about the really important things that you absolutely need to know? Like, do your horoscopes align? Are you rival Disney princesses? Did they secretly vote for Donald Trump? The night is young and the Internet-quiz possibilities are endless.
4. Have a Bob Ross-inspired paint night.
I recommend pairing this activity with a bottle of your favorite wine for maximum Bob Ross-esque zen. Select an episode of The Joy Of Painting, available on YouTube, and color your world Van Dyke Brown. This makes for an entertaining and therapeutic evening.
Of course, there are a couple classic, indoor date ideas you don't want to miss out on as well.
5. Have a movie marathon.
Although you've probably rolled your eyes in the past at every f*ckboy who invited you over to Netflix and chill, cozying up by the fire with your partner isn't actually a terrible idea. This date offers plenty of opportunities for physical contact and there's no shortage of holiday-themed favorites to rewatch, like Home Alone 2: Lost In New York or Love Actually. If holiday movies aren't your thing, consider putting on a horror film, like The Shining, that's all about the dangers of cabin fever. Nothing like pure terror to bring you and your partner closer together.
6. Decorate holiday cookies.
Another opportunity to engage in friendly competition, decorating cookies with your partner is the stuff of Hallmark Christmas movies. In fact, you could turn just about any cooking-related activity into the perfect date night. Like the yoga challenge, cooking or baking together forces you to work as a team, making it the ideal opportunity to gauge whether or not you and your partner are compatible. Luckily, cooking together offers one benefit yoga does not — food, duh.
Colder weather may mean staying indoors but that doesn't mean you and your partner can't still fight the winter blues. If you enjoy spending time with them, it won't matter where you are — tanning on a white-sand beach in Aruba or huddled by the furnace in your shoebox of an apartment. You'll be happy just knowing you're together.
Check out the entire Gen Why series and other videos on Facebook and the Bustle app across Apple TV, Roku, and Amazon Fire TV.