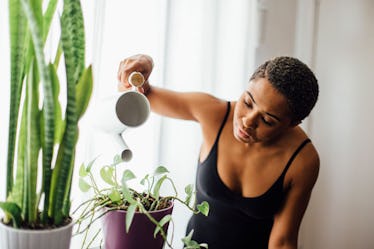 If Your Morning Routine Needs A Makeover, Try Doing These 6 Simple Things When You Wake Up
Attention: This is not your generic morning routine advice. Lemon water does not make a cameo here. You will not be told to run a marathon before 8 a.m. (unless that's your thing, and in that case, more power to you). I'm getting a little weird with you today, girl. The things you do when you wake up can set the mood for a day of killing the game, so paying a little extra attention can really make a huge difference. If you're in a little bit of a morning routine rut, looking outside the box can give you the boost you need to shake things up.
Of course, different morning activities work for different people, so there's no singular recipe for the "perfect" start to your day. But developing a consistent routine that fits your specific needs is key, because not only will that help boost your productivity, it'll make you feel happier overall, too. Mindfulness expert Julie Potiker tells Elite Daily, "During each step of your morning schedule, these activities release happiness neurochemical triggers that enhance productivity throughout the day."
So whether you prefer a quick Pop-Tart or an elaborate smoothie bowl, a full face of makeup or beautiful bare skin, try some expert- and science-approved activities that may just transform you into a morning person. (I said may, OK?)