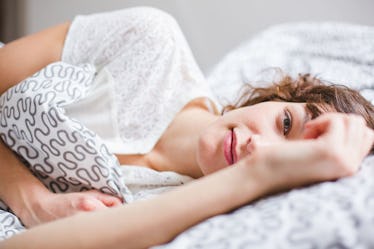 If You Absolutely Hate Mornings, Try Thinking About These 5 Things When You Wake Up
How often can you honestly say you wake up on the right side of the bed? For some people, waking up early almost feels like a punishment, and the only way to perk up is to drown their sorrows in coffee — lots, and lots of coffee. Personally, I've never been one of those people, and maybe that's partially due to my body's intolerance to caffeine forcing me to embrace the dawn. But even despite my inability to down an iced Americano sans a stomachache, I also believe that focusing on positive things to think about when you wake up can turn that fresh-off-the-pillow frown upside down because, quite frankly, negativity isn't going to get you anywhere in this world, let alone out of bed in the morning.
Maybe you don't exactly buy into this idea that if you change your thoughts, you can change your world, but have you actually tried putting the mantra into practice? There really is something to say about starting small, and I'm a firm believer in the notion that waking up with the intention of having a good day and sustaining a positive outlook — rather than moping about how you never get to sleep in past 6 a.m. — can make a world of difference. I'm not saying the power of positive thinking is a quick fix by any means; it takes a lot of conscious effort to master this type of philosophy. What I can tell you, though, is it'll be worth it.
So how can you tell if you're a morning person or not? It's pretty obvious, really. According to Nectar Sleep's lifestyle and wellness expert, Erin Berman, the linear definition of a morning person is someone who generally wakes up easily, and has virtually "no problem getting out of bed and out the door." If this sounds like a foreign concept to you, then you're most likely not your best self in the a.m.
"People who aren't a morning person simply have a hard time getting out of bed," Berman tells Elite Daily, "even if they slept a recommended eight hours. If you feel like you are getting a full eight hours and still having a hard time getting out of bed, rest assured you aren't alone — you simply aren't a morning person."
This is totally fine, BTW. Not everyone can be Suzie Sunshine at the crack of dawn, but wouldn't life be so much easier if you could just make peace with the early hours? The good news is, you're just one happy thought away from waking up in a stellar mood and taking the day by storm, so in order to help you out, Elite Daily had a chat with a few experts to figure out the best mindset to have in order to start your day off right, every single time.