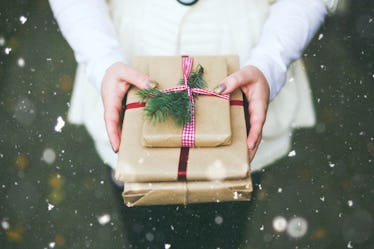 6 Gender-Neutral Gifts To Give Your Partner If You're Totally Stumped On Present Ideas
Now that Halloween in behind us, we're skipping right past Thanksgiving and going straight to what really matters, per usual: Christmas. But of course, one of the most stressful aspects of this otherwise enjoyable holiday is figuring out WTF to get everyone, especially your significant other. Although everyone loves to spout that "gifts don't matter" BS, we all know that's no excuse to be a slacker when it comes to choosing gifts to give your partner for the holidays.
But luckily, coming up with the perfect thing to put a smile on their face shouldn't be too difficult. When it comes to gift giving, my philosophy is that the best gift to give someone is something they need, but never knew that they needed. Sure, you can go the easy route and just ask them what they want, but there's something extra special about doing a bit of detective work to show them how much you really care.
Something else to consider is how long you've been together. If you've been together for less than 6 months, then you definitely don't have to break the bank, but a relationship longer than a year may call for a slightly grander (i.e. more expensive) gesture. To give you a leg-up, here are some modest, gender neutral gift ideas that could make great gifts for newer couples.
1. Massage Oil Candle
Soy Massage Oil Candle, $24, Pure Romance | Flickering Touch Massage Candle, $35, Lelo
This is the perfect excuse to give — and definitely get — a good rub down. Although I know not everyone is as pumped about candles as I am, the massage aspect makes this a real winner. Not to mention, a massage candle is a great way to spice things up. And if you're in the market for something a bit more decadent, then going for the gold and getting a gift set would definitely be appreciated.
2. Headphones
Over The Ear Headphones, $35, Amazon | Noise Canceling Headphones, $70, Amazon | Monster Beats Headphones, $27, Amazon
At this point, having multiple sets of headphones for different purposes is pretty standard. The over-the-ear ones are great for the gym because they stay in place so much better than regular, run-of-the-mill earbuds. For travel, noise canceling headphones with a nice, pillowy ear cover are top-notch. And for day-to-day use, quality ear buds can usually get the job done and are super compact, which is prime.
3. An Artsy Water Bottle
S'well Water Bottle, $35, Amazon
If your boo thang is the active type — or even just constantly on the go — then a stylish reminder to stay hydrated could be a great gift. At first glance, a water bottle might not seem like the most exciting gift, and let's be honest: If your partner gifts you a tablet, things could feel a bit unbalanced. But for a newer romance, this is something that's super practical. Want to make it a bit more special? Maybe throw in tickets to their favorite sporting event or plan a romantic picnic.
4. A Scratch Map
Scratch Map, $26, Uncommon Goods
I think this is such a cute idea. If you're dating an avid traveller, then a scratch map could be a great way for them to keep track of all the awesome places they've been. The cool part is they can just grab a nickel and "scratch off" the countries you've been to. If you're a couple who's super into jet-setting, then this could also be a great way to present a larger gift, like a plane ticket (if you're a baller) or even just a road trip to a nearby attraction that would interest them.
5. An LP Subscription
I recently gifted this to my partner, and I have to say, I think it went over pretty well. If you're dating a music junkie who likes to kick it old school, then why not help them beef up their record collection a bit? The best part is there's absolutely no shopping involved. You just visit the site, pick the plan you want, and your partner gets an LP of the month delivered to their front door. If you have the time to shop around, then do, as some services also send out merch and cocktail pairings, which is the perfect excuse to spend an evening in with a good album and drink to fit the mood.
6. Bourbon-Flavored Everything
Chief's Gift Set, $59, Makers Mark
Who doesn't love something infused with this slightly-smoky, slightly-sweet spirit? For your bourbon-loving boo, why not gift them some bourbon-infused goodies. This gift-set comes complete with bourbon-flavored coffee, cherries, and barbecue sauce... need I say more?
Ultimately, coming up with the perfect gift for your partner might take a bit of time and planning, so don't procrastinate. But with a a little forethought, they're sure to be impressed.
Check out the entire Gen Why series and other videos on Facebook and the Bustle app across Apple TV, Roku, and Amazon Fire TV.
Check out the "Best of Elite Daily" stream in the Bustle App for more stories just like this!