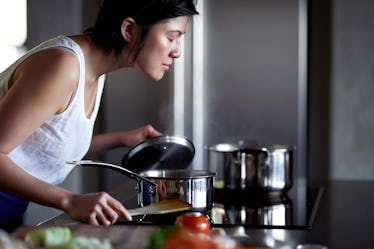 The Best Foods To Eat When You're Sick & Need To Recover ASAP, According To Experts
Whenever you're battling a nasty cold, you're probably pretty focused on getting better as soon as you possibly can. After all, nobody likes to have to carry around tissues or sneeze their way through the afternoon. One of the reasons I personally dread getting colds is that congestion always diminishes my taste buds, which makes sitting down for a delicious meal much less enjoyable. Even if your sense of taste isn't as heightened as it usually is, incorporating these six foods to eat when you're sick into your meals might help you recover as soon as you possibly can, according to experts.
Before you dive into any of these great food options, though, remember to fill up your water bottle, because staying hydrated really is key to getting healthy, says Dr. Josh Axe, D.N.M., C.N.S., D.C., founder of Ancient Nutrition and author of the upcoming Keto Diet. "This is probably the most simple and basic of common cold remedies, but don't underestimate how important it is," he tells Elite Daily in an email. "Adequate hydration is the key to preventing dehydration and loosening up that nasty congestion."
If you're finding yourself a little bored with regular tap water, try adding some mint and cucumber, or strawberries and basil into your glass. Just be sure to aim for at least eight ounces of water every two hours, says Dr. Axe, so that your time being sick stays as short as possible.