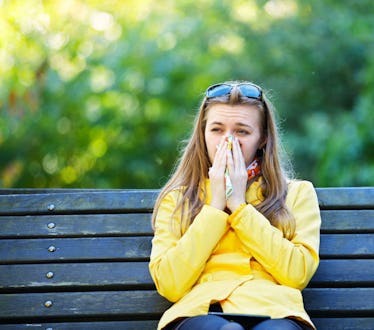 Experts Reveal 5 Foods To Avoid When You're Sick So Your Body Can Recover ASAP
Whenever I feel my throat start to itch with the warning sign of a sore throat, I immediately jump into my sickness management plan. Aside from medications like Dayquil, I've definitely noticed how the foods I eat when I'm sick tend to have a huge effect on my symptoms. If my nose even begins to run, for instance, I drink a huge mug of turmeric tea ASAP. If I start feeling nauseated, I cook up a pot of brown rice. I'm no dietitian myself, but I talked to a few experts who've recommended foods to avoid when you're sick, so that you can get back to your usual self as quickly as possible.
Now, while this list includes suggestions for what to avoid if you don't want your cold to get worse, it's also crucial to eat enough food in general when you're not feeling your best. "When you're feeling under the weather, you want to focus on foods that will help keep you hydrated and give your body the energy and nutrients that it needs to fight off the illness," Alyssa Tucci, director of nutrition at Virtual Health Partners, tells Elite Daily over email.
So, even though you might be skipping some of your mealtime go-tos, be sure to add in other healthy foods so that you're still getting plenty of energy. "In general," Tucci says, "try to eat small, frequent meals and snacks with nutrient-dense ingredients." Additionally, be sure to avoid these five foods if you don't want your cold to take a turn for the worst.