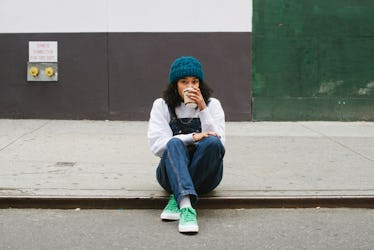 Experts Reveal The 6 Foods That Can Help You Doze Off When You're Too Anxious To Sleep
Whenever I'm most desperate to fall into a nice, easy, deep sleep — i.e. right before a stressful event, or even before a long day of traveling — I seem to toss and turn for hours. I start worrying about all of the little details that could go wrong the next day, from sleeping through my alarm to forgetting important information. When counting sheep just doesn't cut it, experts say these six foods can help you sleep when you're anxious.
But before I get into what those foods are, exactly, it's important to note that the occasional case of nervousness is not the same as clinical anxiety, which can't be "cured" with a cup of tea or a slice of warm toast. If your anxious thoughts are inhibiting your everyday life, be sure to check in with a mental health professional for some individualized guidance. If you're just feeling queasy about a big test or an upcoming job interview, on the other hand, munching on a couple of key foods before you hit the hay might be able to help.
The thing is, how you eat these bedtimes snacks could be just as important as what you actually eat, especially if your goal is to truly soothe some anxious feels. Gordon Ly, a registered dietitian at the Copeman Healthcare Centre in Vancouver, suggests focusing your energy on genuinely enjoying whatever foods you nom on at night by eating them mindfully. In other words, ditch your Twitter feed during snack time, as well as that Friends episode you're half-watching in the background. "You might also consider sitting down, closing your eyes, and chewing slowly to really maximize the senses and eat slowly," he tells Elite Daily.
Of course, there's no singular recipe for the foods that can help you drift off before a big day, says Dr. Josh Axe, D.N.M., C.N.S., D.C., founder of Ancient Nutrition and DrAxe.com. "Most people notice a better sleep when they combine 15 to 20 grams of carbohydrates in their evening snacks; however, some people do better without carbohydrates later at night," he explains. "So, listen to your body. If snacking late doesn't sound good, then just incorporate these foods into your dinner."