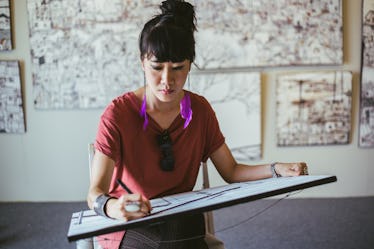 When The Afternoon Crash Strikes, Use One Of These 6 Essential Oils To Help You Focus
I don't know about you, but between work and school, I have a lot of writing and reading to do, and it requires a great deal of focus. TBH, it can be difficult to keep my mind clear and concentrated during all the times I need it to be on point — especially when late afternoon rolls around. But ever since I began my love affair with essential oils, I'm definitely planning on experimenting with essential oils for focus to help me perk back up whenever I start to crash instead of relying on my usual caffeine fix.
Aromatherapy — which involves using scents to reap both mental and physical benefits — is a practice with a long and rich history, dating back to about 2000 to 3000 B.C. in places like Egypt, China, and India. Plants are put through a distilling process that creates an oil, which holds the essential healing properties and fragrance of that plant. Whether you're wafting these oils through your nose or massaging them into your skin, the plant compounds enter your bloodstream and work their magic from the inside out.
So, if you find yourself struggling to focus — as many of us do — when the late afternoon rolls around, these six essential oils might just do the trick to help you get some sh*t done and feel good doing it.