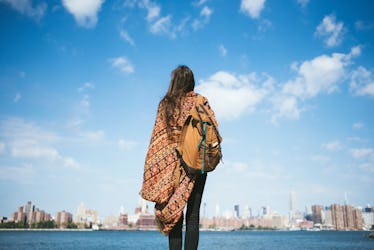 5 Essential Oils That Wake You Up & Inspire You To Tackle Your Day With Confidence
At the risk of sounding like an infomercial, I am becoming more and more convinced of the benefits of essential oils every freaking day. While at first, I was only using them to help me calm down and go to sleep, I have now also discovered essential oils that wake you up, energize, and inspire confidence, too. Trust me when I say that using these bad boys has a deliciously natural impact on my day-to-day routine, especially since the shorter days (and TBH, the news) have had me feeling more off and sluggish than normal.
Essential oils work, ahem, essentially like this: After a process of steaming or distilling a plant, you get an oil product which is thought to hold the "essential" benefits, fragrance, and healing properties of that plant. These oils are often used for the purpose of aromatherapy, which The National Association for Holistic Aromatherapy calls both an art and science that utilizes plants' aromatic essences to "balance, harmonize, and promote the health of body, mind, and spirit." These scents activate the olfactory system — the part of the brain that reacts to smell — and ultimately the limbic system, which is linked to your heart rate, emotions, breathing, stress, memory, and hormonal balance, to name a few. In layman's terms, you take a whiff of a particular fragrance that comes from a plant, and it has the potential to benefit all levels of your beautiful being.
So if you've been having trouble getting out of bed because of the often chaotic and depressing state of the world, or simply because you stayed up too late to finish watching Stranger Things, using these oils will definitely help kickstart both your morning and your mood.