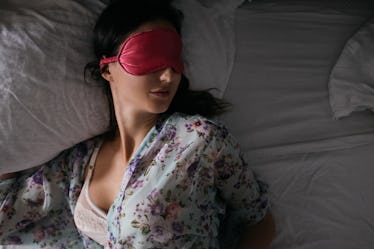 6 Essential Oils That'll Relax Your Mind & Body Just In Time For Bed
Anxiety is one of the most common, yet infuriating reasons why I can't relax and fall asleep some nights. It leaves me there to just lie awake, feeling more or less like I've been plugged into a wall outlet, surging with jittery, unwanted, nervous energy, and plenty of racing thoughts. This is why it's so important to cultivate a healthy wind-down process before bed so you can get the beauty rest you deserve. Lucky for you, I've found some essential oils for anxiety that can help you accomplish that exact goal.
Anxiety and stress are common concerns for many people when it comes to getting restful shut-eye, not just because those racing thoughts can keep you awake, but even when you're asleep, that anxiety can disrupt the quality of your rest. Plus, as the National Sleep Foundation points out, it's kind of a catch-22: Anxiety can cause sleeplessness, and sleeplessness can cause anxiety. So, while you can do things like cut down on caffeine during the day to help you sleep later when bedtime rolls around, I find that establishing quality sleep and relaxation habits before bed has always been one of the most effective ways to get the job done.
That's where these awesome essential oils come into play. Try using a few of these during your next nighttime ritual to help you quiet your mind and prepare for a gloriously relaxing night of sleep.