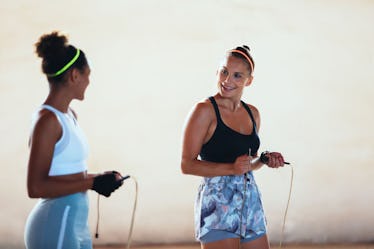 6 Clever Pickup Lines To Try At The Gym The Next Time You See Gym Bae
When going to the gym becomes part of your everyday routine, chances are you'll see some of the same people over and over again, especially if you tend to workout around the same time every day. And maybe one of those regulars catches your eye. They're cute, they share at least one of the same interests as you, and you've already seen them all sweaty and still find them hot. This mystery person, ladies, is who I call Gym Bae. If you constantly find yourself on the lookout for Gym Bae, these clever pickup lines to try at the gym may be for you, so you can break the ice and quit admiring from afar.
Pickup lines have stood the test of time, but as humans have naturally gotten smarter and more immune to cheesiness, I feel like pickup lines have gone from being the way to spark someone's interest in you, to a way in with someone through laughter. You both know it's cheesy, but if they're interested, they'll most likely go along with it. Besides, there's no denying that being confident enough to even attempt a pickup line is nothing if not sexy. Granted, no pickup line will ever guarantee you a date or the greatest romance of your life, but if you're stuck on how to approach Gym Bae and you're tired of scoping out the weight room just to catch a glimpse, what have you got to lose?