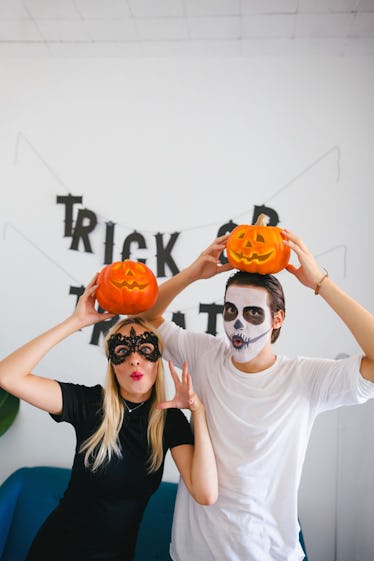 20 Opening Lines To Use On Halloween Night That Are Both Sexy & Spooky
Well, folks, you know the drill. Now that summer is officially over and Christmas is still months away, the only thing we really have to look forward to is Halloween. You know, that children's holiday we all cling to for dear life because it's just too much fun to let go. And let's be real: If you're flying solo, the best part about Halloween is going on the prowl for a sexy stranger to end the night with. Lucky for you, these Halloween 2018 pick-up lines might just be your golden ticket to a steamy hookup in the basement of your local haunted house.
Considering Halloween is on a Wednesday this year, we've essentially been gifted the green light to turn up the entire month of October. This pretty much guarantees there will be plenty of parties (and therefore, tons of opportunities) to get your mix and mingle on. And I can't think of a better way to scare a hottie than dropping a cringe-worthy pick-up line. Some people love 'em, some people hate 'em, but just like zombies, pick-up lines just won't seem to die. Plus, Oct. 31 is one of the few nights of the year when being (candy) corny is actually kind of cute. Here are 20 pick-up lines that will def help you find a boo.
1. "I can't find a costume for Halloween, so can I just go as your boyfriend/girlfriend?"
2. "Are you a ghost? You've been haunting my dreams all night."
3. "If you were a jack-o'-lantern, I'd totally light your candle."
4. "That costume looks complicated. Need help taking it off?"
5. "It's a good thing we're not in a horror movie. The pretty girl always goes first."
6. "I don't want your candy, what I really want is your number."
7. "I hear this place is haunted, we better stick together."
8. "You're the most boo-tiful ghost I've seen all night."
9. "Went trick-or-treating, but I didn't get any Hershey's. Can you share some kisses?"
10. "Hey pumpkin – I bet I can put a smile on your face."
11. "I wanna bob for yo' apples."
12. "I was going to go as a ghost, but you'll get to see my sheets later."
13. "Hi, I'm a zombie, can I eat you out?"
14. "I didn't know that my favorite Halloween treat came in life size!"
15. "I'm tired of this old broom. Got anything else I can ride?"
16. "I'm dressed up as a fake werewolf right now, but I become a real beast in the bedroom."
17. "You're the only treat I want in my sack this Halloween."
18. "I'm trying to work up the nerve to ask you out, but I've got butterflies in my stomach. And worms. And maggots."
19. "I heard there's a vampire on the loose, you better stay with me tonight."
20. "You should try my famous candy-corn chowder. Wanna come over for dinner next Friday?"
Check out the "Best of Elite Daily" stream in the Bustle App for more stories just like this!