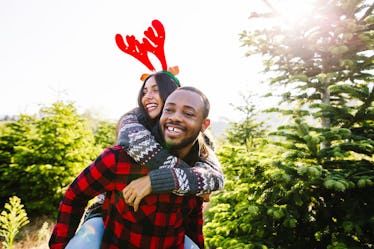 6 Christmas Carol Lyrics For Couples' Instagram Captions That Have Us Fall-La-La-Ing In Love
"It's the most wonderful time of the year." Indeed, Christmas is approaching, and there's no denying that it's chock full of Insta-worthy potential. Between the stunning tree adorned with sparkling ornaments, your glitzy holiday party attire, and the snow-covered tree branches, Christmas time provides the perfect background for some cute AF couples' shots. And you don't even have to agonize over the captions, either — because the right Christmas carol lyrics for couples' Instagram captions can pull it all together flawlessly.
The only question now is, which song lyrics to use? Of course, there are innocent classics like "Jingle Bells" and "Deck The Halls," but those tunes don't have any lyrics about love. Then there's the slightly outdated (and let's be honest, downright creepy) "Baby It's Cold Outside," or more solemn (though beautiful) standards like "O Holy Night." Ideally, the right Christmas carol for your IG will capture you and bae's romantic bliss while also paying tribute to the spirit of the season.
Fret not, because I've pulled together some of the best Christmas carol lyrics for all your upcoming couple posts — bringing a new meaning to "no caption needed."