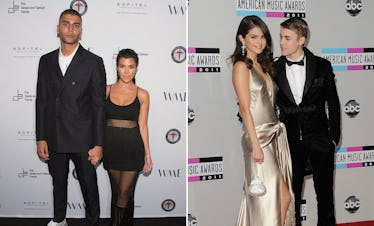 6 Times Celebs Used Instagram To Send A Message To Their Ex
Gabriel Olsen/Jason Merritt/TERM/Getty Images Entertainment/Getty Images
Social media is a tricky thing. It can be used for so much, especially if you're in a relationship. Want to gush about your new boo? Post a pic! Want to wish your significant other a happy anniversary? Post a sappy caption! But what happens when you break up with that person? Well, that's where things get dicey — and it's no different with celebrities, either. When a celeb goes through a breakup, sometimes they use social media as a way of subtly telling their ex something they want to get off their chest without, you know, calling them out face-to-face. And these six celebrity Instagram posts that sent a message to their ex are truly something to behold. So, if you're looking to deliver some shade, or to relay a message that you've totally moved on, I highly suggest you all take notes.
Just remember, friends: what gets put out on the internet, stays on the internet — even if you decide to "delete." (Screenshots are forever, sadly.) So be very, very careful about what you post... or, just take a page from the celebs below, who clearly DGAF.
Todrick Hall
YouTube personality and RuPaul's Drag Race judge Todrick Hall ended things with his boyfriend, Danny Williams, after accusing him of cheating, and used Instagram as a platform to call him out publicly. And let's just say his method was not exactly subtle.
Hall took to his Instagram story to first list out the rules for anyone who'd like to apply for the role of his new boyfriend. I mean, right from the start, we know that this is going to be a high-drama kind of memo.
For starters, Hall requires that his new boyfriend "must not lie to me about what they're doing when they're sleeping with me when [their] new secret side fling isn't around," and that his new boyfriend "must not allow me to fly them all over the world so that they can do jobs and make money while sneaking away multiple times to go 'not hang out with their ex' while he's conveniently in town and then crawl back into the house looking shady and guilty as f*ck at 6am."
Oh yeah. He went there, you guys.
Hall also directly points the finger at his ex, calling Williams out on the spot. "I blocked you already but I'm sure you'll find some way to see this so I just want to let you know that YOU are shady boots... I'm done dealing talking to you and dealing with people who want to date me but don't have the time or willingness to earn my trust."
In fact, the story was so lengthy that the whole damn thing was made into a VIDEO so that fans could view it in all of its shady glory:
What a wild ride, y'all. Elite daily reached out to Williams' team for comment on Hall's claims, but did not hear back by the time of publication.
I mean, I think it's safe to say that Hall's rant session goes down as one of the shadiest messages in the history of Instagram, yes? Yes.
Lil Xan and Noah Cyrus
Ah, young love. So exciting, so new, and so easy for things to go from good to bad in mere seconds.
On Monday, Sept. 3, rapper Lil Xan took to his Instagram Story to share his doubts about Cyrus' faithfulness to him. "I feel like I'm probably being cheated on," Lil Xan wrote in an Instagram Story, as reported by Hot New Hip Hop. "Bad things always happen to the good guys so ima be an a**hole from now on if you ain't gang."
But Cyrus decided to use Instagram to send a message right back to Lil Xan. In an Instagram Story of her own, Cyrus revealed the reason behind the downfall of their relationship by uploading a screenshot. It appears that Cyrus texted Lil Xan a photo of a naked body with Charlie Puth's head Photoshopped onto it seemingly as a joke, which reportedly prompted Lil Xan to think Cyrus was cheating on him. Elite Daily previously reached out to both Cyrus' and Lil Xan's teams for comment on the breakup, as well as the cheating allegations, but did not hear back by the time of publication.
Cyrus then pointed the finger at Lil Xan, saying that "cheaters like to accuse their partners of cheating to make themselves feel less guilt":
Just a few weeks after the back-and-forth Instagram exchange between the two exes, Lil Xan admitted the breakup was his fault in an interview on Open Late with Peter Rosenberg. "Honest to God, I would say like most of the reason the breakup happened was because of me," Lil Xan said. "It was my fault."
While he didn't share that information on Instagram, at least he opened up and took responsibility on some kind of forum. Points for honesty, I guess?
Justin Bieber and Selena Gomez
Let's rewind things all the way back to August 2016. It was a time when Justin Bieber and Selena Gomez officially threw in the towel (again) on their on-again, off-again relationship, and Bieber was reportedly dating Sofia Richie, who, as we all know, is now dating Scott Disick.
Bieber uploaded a picture of himself and Richie on Instagram, and, because he was receiving some major backlash from his fans who weren't exactly happy about his new relationship with Baldwin, threatened to make his Instagram private. #BringJelenaBack, amirite?
Anyway, he posted the photo below and captioned it,
I'm gonna make my Instagram private if you guys don't stop the hate this is getting out of hand, if you guys are really fans you wouldn't be so mean to people that I like
But Gomez decided to back up Bieber's fans, and took to Instagram to post a comment on Bieber's photo that was shady AF. "If you can't handle the hate, then stop posting pictures of your girlfriend lol," she commented. "It should be special between you two only. Don't be mad at your fans. They love you and supported you before any one ever did."
Bieber reportedly commented back, writing, "It's funny to see people that used me for attention and still try to point the finger this way. Sad. All love."
I can see those claws from here. Clearly, the passive aggressiveness was strong with these two, and they had no issue putting it on full display for all of their Insta followers to see.
Kourtney Kardashian
On Tuesday, August 7, TMZ reported that Kourtney Kardashian and Younes Bendjima split up after two years of dating. While the details are a bit fuzzy, it seems that Bendjima wasn't too heartbroken over the breakup, because just days after news that their relationship ended broke, he was spotted in Mexico getting cozy with another woman. Elite Daily previously reached out to Kardashian and Bendjima's team for comment, but did not hear back by the time of publication.
So, what did our girl Kourtney do? She uploaded a cryptic post on Instagram, of course! On Aug. 6, she posted a ~sultry~ photo of herself, captioning the photo, "don't make me feel a way":
Look, do we know whether or not this Instagram post was directly aimed at Bendjima? No, but the timing sure is pretty perfect, wouldn't you say?
To me, it's Kourt's subtle way of telling her ex that it's not up to him to make her feel a certain way about herself, because how dare he?
So I think the moral of the story is that if you really, really need to get something off your chest when it comes to a former flame, the obvious way to do it is on social media. Because there's truly nothing better than airing out your dirty laundry for the rest of the world to enjoy — and I have a feeling all of your friends on Instagram will agree.
Plus, it's free entertainment, people. Happy scrolling!