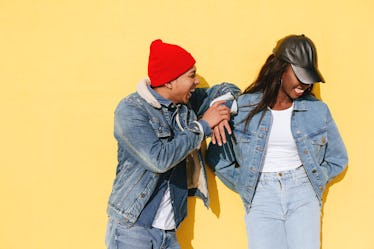 Send These 6 Body Language Signals To Show Your Crush You're Interested
There are many ways you can let your crush know you're into them, and each method comes with its own pros and cons. You could straight-up tell them IRL, and while that's the most direct way to assess whether they feel the same way, it's also undeniably risky. You could also shoot them a flirty text, which may feel less vulnerable, but as we all know, text messages can be easily misconstrued. Luckily, there are some super effective body language signals that mean you're interested.
"Where the mind goes, the body always follows," explains Traci Brown, body language expert and author of Persuasion Point: Body Language and Speech for Influence. "So the body will always tell what's on someone's mind — even the things they'd rather you didn't know."
In other words, nonverbal communication is more powerful than you may realize. Everything from your posture and your gestures to your facial expressions can convey valuable information about how you feel. That's good news if you're eager for your crush to know you like them, but aren't quite ready to own up to it verbally.
So, how can you use your body language to demonstrate your interest? Try some of these tried-and-true tactics.