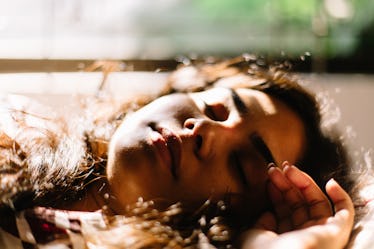 These 6 Apps Will Help You Pass TF Out When You Feel Like You Can't Fall Asleep
If sleep doesn't come easily to you, I'm willing to bet you've tried just about every trick in the book by now: essential oils, sleepytime tea, blackout curtains — the list goes on and on. The thing about many of these bedtime rituals, though, is that they don't necessarily target the most persistent sleep-stealer of all: racing thoughts. A great way to combat all that internal noise is by downloading apps that help you sleep, because more than anything, they work to help you actually let go of all the daily stressors that are keeping you awake all night.
BTW, in case you were wondering, you are not alone whatsoever in your struggle to get a good night's sleep. According to the American Sleep Association, somewhere between 50 and 70 million adults in the U.S. have a sleep disorder, with 10 percent suffering from chronic insomnia, and about 30 percent struggling with more short-term bouts of insomnia. That's a whole lot of sleepless nights, especially when the recommended average for an adult is seven to nine hours a night, according to Mayo Clinic. And, be honest, are you getting that many hours of shut-eye every night? Really?
If your answer to that question isn't a confident "yes," consider checking out some of these apps. I mean, it's worth a shot, right?