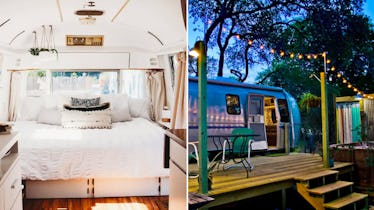 These Airstreams On Airbnb Are So Cool & Cozy For Your Next Baecation
Your heart is filled with a whole lot of wanderlust and your bucket list is forever growing. You may have recently spent a few nights in a bubble tent underneath the stars, or in the cutest beach cottage steps away from the surf and sand. You're always looking for artsy and cool accommodations, so you might want to consider renting one of these Airstreams on Airbnb.
Whenever my friends and I are planning a trip, Airbnb is where we look first. There's an endless supply of awesome places you can stay, from treehouses in the forest to yurts in the desert. Although, out of all the interesting hideaways you may scope out, I've always thought a vintage airstream takes the win. With the retro feel, it just screams Instagram-worthy.
This summer, I rented an Airbnb in Joshua Tree that just so happened to have an Airstream parked out front. Even though we didn't technically stay inside the Airstream, I was able to fulfill my Instagram dreams of taking pictures in front of it. Next up on my list is to actually spend the night in one.
If you and bae are looking for a romantic weekend escape, you might want to consider renting an airstream. Check out the below options that are available on Airbnb.