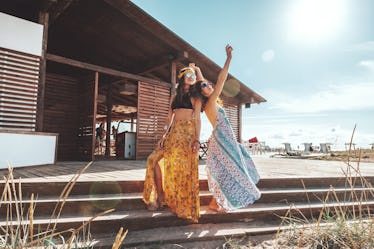 50 Witty Beach Captions For Pics With Your Mermaid Squad Since Day One
Shutterstock
A perfect day at the beach entails so much more than simply swimming in the waves and taking a nap on the sand. If you want to make the most of your day at the shore, you'll round up the crew for a game of beach volleyball and Frisbee, and bring yummy eats for a barbecue lunch. You'll also need to pack a cute pair of sunnies, beach towel, quality sunscreen, and witty beach captions for Instagram in your tote.
When you're not taking a refreshing dip in the sea, you could be relaxing in a cabana or getting cozy in a hammock while taking sun-kissed selfies with your besties. You could also be sippin' a piña colada at a beach bar with your SO, and want to capture the moment with a little video so you can remember the day forever.
That's where this list of clever beach quotes comes into play. In order to post those sunny selfies, Boomerangs of the waves crashing on the sand, and plandids of you showing off your beach outfit of the day, you'll need some epic captions.
Your followers will appreciate a punny beach caption over a line they've seen over and over again. Coming up with something that'll make your friends laugh out loud can be pretty time consuming. It's also totally not chill to spend most of your time at the beach staring at your phone, but that's where this list comes into play. Forget having to come up with a caption on your own and taking time away from soaking up those beautiful rays. Instead, use any of these 50 beach quotes that are totally mermaid for your snaps.
1. "If there's a will, there's a wave."
2. "You haddock me at hello."
3. "That little sun of a beach."
4. "Sea you on the next wave."
5. "B.E.A.C.H. — best escape anyone could have. "
6. "Feelin' just beachy."
7. "Tastes like summer."
8. "Party like a lobstar."
9. "I've got 99 problems, but a beach ain't one."
10. "Life is a beach, I'm just playing in the sand." — Lil Wayne, "Right Above It"
11. "I'm feeling fintastic. How buoy't you?"
12. "Water you doing? I'm just sitting by the sea."
13. "If you can't stop the waves, you might as well learn how to surf."
14. "Don't get tide down."
15. "'This is my favorite sea-sun."
16. "Please excuse my resting beach face."
17. "When in doubt, paddle it out."
18. "I'm going to change the world, but today I'll just be a mermaid."
19. "There are a million fish in the sea, but I'm a mermaid."
20. "Feeling salty about not being a mermaid."
21. "Don't worry, beach happy."
22. "Sea more of the world, one beach at a time."
23. "I'll catch you on the next wave."
24. "I'm upgrading my cell phone for a shell phone today."
25. "Sea you real soon."
26. "I'm so happy. I don't even care that I'll have sand at the bottom of my bag for months."
27. "No one likes a shady beach."
28. "Them: You want to go to the beach? Me: For shore."
29. "Partying like a lob-star."
30. "Shell we dance?"
31. "If I've got my flip flops on, you know where to find me."
32. "Beach you to it."
33. "Love the beach. Can I be any more Pacific?"
34. "My only worry today is if the tide gets too close to my beach blanket."
35. "Call me on the shell phone."
36. "The ocean asked to hang out, and I said, 'Shell yeah.'"
37. "Fresh to depth."
38. "I stayed up all night to see where the sun went, and then it dawned on me."
39. "What's up, my beaches?"
40. "Long time no sea."
41. "Shake your palm palms."
42. "My favorite color is the ocean."
43. "All my troubles wash away in the water."
44. "Yeah buoy."
45. "I can sea clearly now."
46. "Felt cute, might go swimming later."
47. "Pretty sure my birthstone is a seashell."
48. "Sorry, I can't. I have important mermaid stuff to do."
49. "I'm in a tropical state of mind."
50. "This is where I beach-long."
This article was originally published on