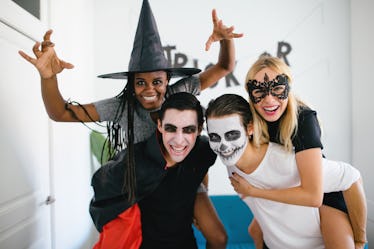 5 Zodiac Signs Who'll Love Planning Your Halloween Couples' Costume
Coordinating your couples' costume for Spooky Season 2019 isn't always an easy task. Thankfully, there are some zodiac signs who'll love planning your Halloween couples' costume from top to bottom. These are the signs you'll want to cuff up, ASAP. (Kidding! Kind of.) But not all signs are cut out for the task, and that's OK! Take Cancers, for example. Their reputation as a gentle, sensitive sign tends to holds up. Like a crab, they may be fierce, but they're soft underneath their crustacean shell. Cancers would love the emotional aspect of a Halloween couples' costume. Matching with their lover! What more could they ask for to feel validated and safe? But likewise, their sensitivity means they'd probably be all up in their own head about which couples' costume to actually pick and plan.
Libras might also adore a couples' costume. They're hopeless romantics, so the idea of matching their partner would probably feel hella exciting to them. Plus, give them an excuse to dress up and they'll be the happiest sign in the zodiac. But a Libra's fatal flaw — their classic indecision, or as they call it, "weighing the pros and cons" — might get in the way of them actually planning something. This is where the zodiac signs who are fantastic planners come in. Below, five signs who will relish the opportunity get your couples' costume together this Halloween.