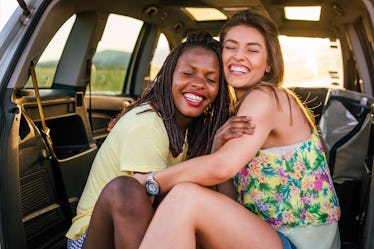 5 Zodiac Sign Pairings Most Likely To Fall In Love
Kosijerphotography/E+/Getty Images
For some people, a potential partner's zodiac sign can be just as crucial as who they voted for. Keeping in mind which zodiac sign pairings are most likely to fall in love can help you keep an eye out for a match that's astrologically compatible. That way, you already have an idea of which hotties are most likely to go the distance. Whether you're deep into astrology or not, the vast majority of your dating pool very well may be.
In 2019, MTV Insights found that a whopping 75% of millennials and Gen Zers believe in astrology. Likewise, 65% of teenagers and young adults these days regularly check their horoscopes, and 66% believe the stars affect romantic compatibility. Before you read the following pairings (and panic because you don't see your sign and your crush's sign together), know that zodiac sign compatibility may be more nuanced than you think.
Jeanna Kadlec, the resident astrologer for the Sanctuary astrology app, told Elite Daily that knowing your moon sign (which represents your emotional life), your Venus sign ("what we value, and how we like to be valued," she says) and your Mars sign (how you take action and your sexual needs) is key. "It's less about 'compatibility' between your planets, per se," Kadlec said. "[And more about] understanding how astrology can better help you communicate about what you are experiencing within the relationship." Here are the zodiac pairings who tend to have the smoothest rides.