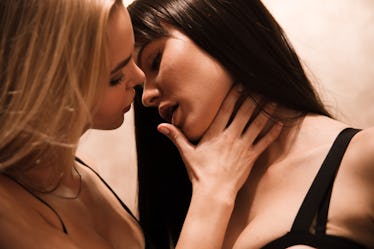 5 Zodiac Pairings That Have The Hottest Sex, So Sparks Will Fly
Shutterstock
There's sex. There's good sex. And there's I-didn't-know-human-existence-could-feel-like-this, I-need-to-reevaluate-everything-in-my-life, call-the-fireman-because-our two-bodies-together-are-burning-up-the-town sex. Though there are a ton of factors that go into sexual compatibility, if you and your boo light the bedroom on fire, astrology may have something to do with it. While everyone is different, and the stars don't determine anyone's future, these zodiac pairings that have the hottest sex could spark a few flames while underwater. In fact, that may be the perfect way to describe what happens when a Pisces gets it on with a Scorpio.
Of course, no matter your sign, having the "hottest sex" means doing whatever feels good and right for you and the people you sleep with. Whether you like to get tied up and suspended from the ceiling or you want to get fingered as your partner lists all the things they like about you in alphabetical order, getting it on means something different to everyone. As long as what you're doing is consensual and you respect each other's boundaries, there's no wrong way to turn up the heat.
However, if you're one of these five zodiac pairings, I suspect that the heat may already be on and turned all the way up.