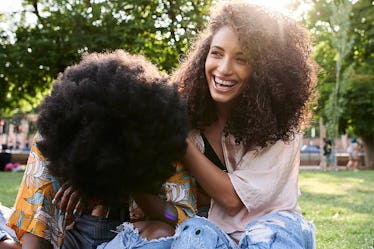 4 Zodiac Sign Pairings That Have The Best Conversations In Relationships
Romantic chemistry looks different for everyone, but good conversation makes for a pretty strong indication that you're vibing with someone cute. After all, when flirty banter blossoms into intense, late-night conversations, there's a good chance you'll start thinking, "OK, there could be something here." The same principle can apply when you bring star signs into the mix. The zodiac sign pairings that have the best conversations are the astrological duos that just click.
These are the couples who started out as friends of a friend, met at party, and hit it off so well they got kicked out of the bar at the end of the night. These are the signs who probably became a couple because one of them left a comment on the other's Instagram photo, and they couldn't stop talking after they slid into each other's DMs. From heated but sexy intellectual debates, to bonding over life philosophies, to the latest celebrity gossip, the signs in these pairings finally have someone who also won't shut up about their passions. Nothing beats that.
So, without further adieu, here are the four zodiac sign pairings that just can't stop talking to each other about anything and everything under the sun.