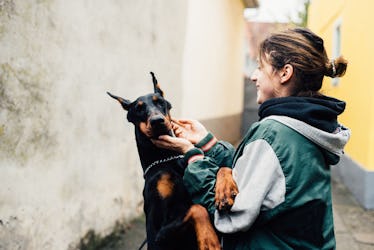 Personal Trainers Say You Can Def Work Out With Your Dog, So Here's How To Do It
After a long day at work or school, sometimes you'd much rather sit inside cuddling with your pet than follow through with that workout class you booked weeks ago, you know? Like, why would you go to a cycling class when you and your darling Dalmatian can just chill and spend some QT together? Well listen, I'm here to tell you that you can do both at the same time, with no need to make that very difficult decision between the two. According to personal trainers, you can work out with your dog, my friends, so enjoying their company and getting your sweat on don't have to be mutually exclusive.
As Rover.com reports in its survey about dog owners, owning a pet increases your physical activity by a whopping 69 percent, just by sheer way of having a furry pal in the first place, and all the things you have to do to take care of them. So really, adding a little more movement into your pet-care routine just takes some creativity and an open mind. Plus, you know who's probably going to be most excited about trying some new moves and all that extra exercise? Your precious little fur baby.
So, if you want to try working out with your dog, here are some paw-sitively adorable suggestions from personal trainers for how to do it.