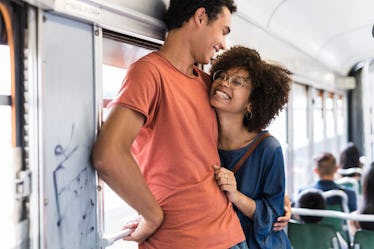 5 Ways To Make Your "Almost" Relationship Official, So That It Lasts Through The Fall
Is there anything more annoying than being with someone who you really, really like, but not having had that "define the relationship" talk just yet? OK, obviously being ghosted is up there, but still — being in an "almost" relationship is seriously frustrating. So, as summer starts to wind down, these ways to make your "almost" relationship official will help you make sure that your love can last though the fall. Because let's be honest, having a significant other around during the holiday season is just about the best thing ever.
The thing is, though, "almost" relationships suck. Like, they just do. Being with someone who you have strong feelings for should be amazing, but if you aren't sure that you're official, or how the other person feels about you, it can get complicated. Maybe you started as friends who just wanted to have a no-strings-attached kind of relationship, or maybe one of you just got out of a super serious relationship. Whatever the case, "almost" relationships can really be emotionally draining, despite the fact that you aren't actually dating that person. Or maybe you are. That's the thing — "almost" relationships are hard to define.
So, if you're trying to take your own "almost" relationship to the next level, then definitely listen up, because these tips could help you make it last through the fall, or even the rest of the year.