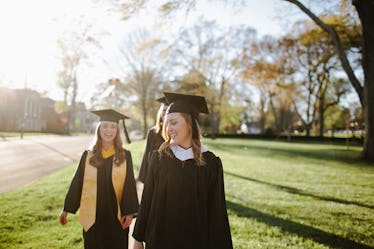 5 Unique Ways To Celebrate Your Partner's Graduation When Dinner Just Isn't Enough
Graduating from college is no small feat. Four years (or more) filled with some of the most intense experiences ever, and yet somehow your bae managed to power through. Completing the next level of schooling isn't something that should be taken lightly. If anything, it's something that warrants an extra special hoorah, so when thinking of the best ways to celebrate your partner's graduation, the default seems to be having a nice dinner out.
Although, if your bae's family is planning on coming to town, then chances are they will be enjoying more than their fair share of yummy congratulatory dinners. Plus, as the person who has probably been there for them through the more difficult moments of college, coming up with a unique way of celebrating such a huge life accomplishment is something your partner will never forget. Not to mention, closing such a large chapter in life can definitely insight some bittersweet feels, and a special surprise would be a great way to keep your bae focused on the adventures to come. To make your SO feel extra special, here are five unique ways to celebrate their college graduation.