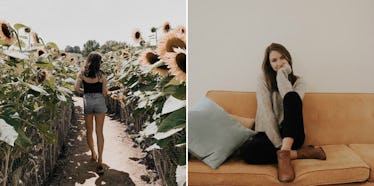 My Favorite Places To Take Fall Pics In Connecticut Are So Underrated
Here's the deal: I've always been obsessed with fall. As a kid, I would get excited when my neighbors started to put pumpkins on their front steps or when my mom asked me, "Do you want to go apple picking this weekend?" I ran through sunflower fields in the peak of August and local fair grounds that were minutes away from my house. Not much has changed since then, except now there are a ton of unique places to take pictures in Connecticut.
This state really is an autumn wonderland, assuming you know where to go for leaf peeping, adventurous hikes, and cozy September nights. It's the prime destination for shopping in tiny towns, picking up fresh corn and squash from farmers markets, and sipping cups of pomegranate tea. I might be biased since I've lived here my entire life, but I think the berry farms and artsy eateries are what a lot of people are missing on their bucket lists.
They're missing out on the relaxing waves by the shore and the fact that it smells like a fall-scented candle wherever you go. They haven't experienced the orchards in the central part of the state, or the waterfalls that glow in the October sunlight. (Oh, and don't even get me started on the pizza from Frank Pepe's.)
Well, that is until now, because I'm giving everyone the 411 on the most unique places to take pictures in Connecticut. They're downright boo-tiful, so prep your cameras and preset packs, hop in your car, and go.