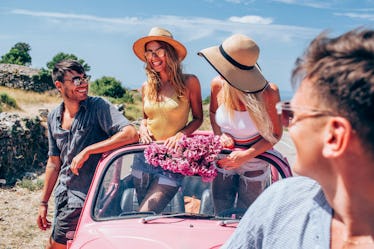 5 Ways To Have An Amazing Time On Your First Trip With Your Partner's Friends
There is a moment in every new courtship when you first spend two nights in a row together for the first time... and there's a moment in every relationship when you go away and spend the whole weekend together for the first time. Sometimes, that happens to be a weekend trip with your partners' friends. 'Tis the season for summer getaways, and if you've ever done a vacation or share house, you know that you have to become quick friends with the friend-of-a-friend you just met but are sharing a bathroom with. The first weekend trip with partner's friends can feel like it has even higher stakes.
When meeting a partner's friends, even just at a bar, my first thought is, "What if they don't like me?!" Because I'm only human and I'm little bit obsessed with what other people think of me! When staying for an entire weekend with a partner's entire group of friends and then some, my first thought is, "What if I need to go to the bathroom, you know, the second iteration?" Going away with anyone is stressful, let alone a group of people you want to impress.
Here's the thing: you're going to feel like an outsider at first, especially if the crew you are traveling with has known each other for a long time. But that will dissipate, and it will dissipate quicker if you're game: Game for meeting new people. Game for having fun. Game for being flexible. Be the person you'd want to meet on vacation by following these five tips.