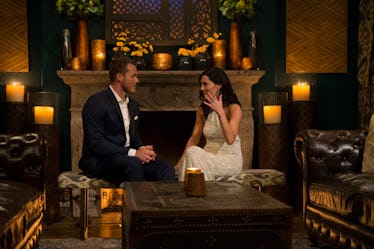 'Bachelorette' Becca Explains Why She Didn't Send Colton Home After His Big Reveal
ABC/Paul Hebert
The second episode of Season 14 of The Bachelorette found Becca in a bit of a dilemma when she discovered that one her suitors Colton dated her pal (and formerBachelor competitor) Tia prior to going on the show. Whatever was our leading lady to do? Trust was somewhat broken, intentions were questioned, and doubts lingered in the back of her mind. While Becca was unsure about Colton's future with her, she ultimately gave him a rose. So, why did Becca keep Colton? Now she's further explaining the reasoning behind allowing him to stick around despite the sticky (and slightly awkward) situation.
In a tense scene from Monday's Bachelorette installment, Colton decided it was time to come clean to Becca about his past, noting that the worst case scenario would be that he would go home. Fair enough. He sat Becca down and explained:
Prior to coming on to this, in January I had a relationship with Tia and I wanted to make sure to explain sort of that we had a weekend together, but for me the timing wasn't right to grow what was a spark into a flame. If my feelings were strong enough I wouldn't have come on this.
Becca was rightfully shocked and didn't know how to move forward. She expressed her frustration and remarked, "If Colton and Tia never had a past I would be so excited for Colton."
Becca decided to sleep on her emotions and speak to Colton again before making any final decisions, although it seemed pretty clear that those reservations were still hanging around.
"I also want to reassure you that the reason that I'm here is because I want to get to know you. And I obviously haven't had a lot of words to get to know you but relationships are built on honesty and trust and you will never have that doubt with me," he promised her.
Not-so-spoiler-alert: Colton got a rose. But it looked like that choice didn't come without hesitations.
Allow Becca to give you some insight on what went through her head throughout the situation. In her June 5 People blog, she described her reaction to his confession: "My mind raced and I didn't know what to believe or how to handle the situation. Was it true? Why would he lie about something like this? Was Tia aware he was here? How does she feel? Is Tia okay? Is Colton a player? Can I trust him?"
But Becca had to go with her gut, even though she admits that "the first thing I wanted to do was send him straight home." Here's why she just couldn't let Colton go:
But the fact of the matter is I was really drawn to Colton for reasons other than just our chemistry and how impressed I was with his charity for Cystic Fibrosis. I felt like there was an invisible pull, something that in my gut told me to not discount our spark.
Becca also stated that her friendship with Tia means the world to her. The ladies met competing for Arie on Season 22 of The Bachelor.
And Becca and Colton's convo isn't the last audiences have heard of Tia. In fact, they'll get a chance to see the franchise alum very soon. A promo for episode 3 shows a sneak peek of some former Bachelor contestants making an apperance — and Becca jumps right in to ask Tia about her history with Colton. Looks like Bachelor Nation might get the opportunity to hear another side of this story.
Becca also teases that next week has "one of the most shocking and dramatic twists I could never have anticipated."
Fingers crossed that none of the other guys had past relationships with Becca's friends.