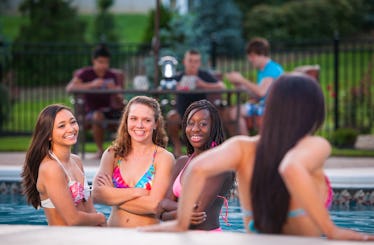 5 Tips For Getting Someone At A Darty To Notice You
The only thing more fun than going to a party is going to a party during the day. That's right — days aren't just for working and eating anymore (although those are both great activities) — they're for partying. At a day party ("darty"), someone may catch your eye. However, because it's during the day, you might not be able to use the same tricks you use at night, so you're left wondering if there are any tips for getting someone at a day party to notice you. Well, lucky for you, I have all the answers.
Unlike evening parties, day parties are often held in the bright light of the sun, and it's possible people will be drinking less (not that you have to drink at an evening party to have fun or that you can't drink at a day party). If you're used to meeting new people at night, you'll need a different set of tactics. Fortunately, I've been to a bunch of day parties (I'm very popular, no big deal), and I know all the best tricks, which I'd love to share with you.
Read on to find five tips for getting someone to notice you at a day party.