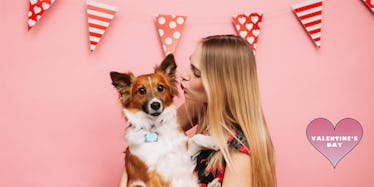 The 7 Essentials To Throwing The Best Singles Valentine's Day Party Ever
Kayla Snell
I will not indulge your frustrations about being single on Valentine's Day.
Because, you guys, who cares!? You're bomb and don't need anyone else!
In fact, according to Elite Daily's reader survey, 28 percent of women and 35 percent of men IN a relationship don't give a fuck about the holiday either, so there's no use in feeling left out or sorry for yourself.
The same survey noted above found one of the most popular activities for singles to do on Valentine's Day was to attend a party, with 51 percent of single women and 22 percent of single men looking to celebrate.
So why not capitalize on this trend and host the best singles shindig yourself?
Here are eight essentials to throwing a great singles Valentine's Day party — co-ed OR girls only!
Booze, duh.
I mean, let's not be idiots, shall we?
Holidays are the BEST time to get creative with cocktails, and everyone loves a good theme. The pinker the color and the wittier the name, the better!
Here are some ideas off the top of my head: "V-Day" (something with vodka), "Cherry Popper" (something with cherries) and "Prince Not Charming" (something with... IDK, Jägermeister?)
Or you could follow a professional's advice and give some of these cocktails a go.
PJs, obviously.
I don't know, maybe this isn't obvious to everyone else, but it SHOULD be.
Throwing a slumber party theme for the evening is an easy way to keep it flirty AND casual. If you're inviting people with the intention to play matchmaker, asking everyone to dress the same breaks the ice and acts as a flirty equalizer.
Bonus: It's comfortable as hell.
Here's a set of fleece footie pajamas with hearts all over them. Get buying.
Finger foods, or you're dead to me.
This particular essential comes straight out of the "Hosting Any Sort Of Party 101" book.
BUT, like the cocktails and attire, THEME IT, BABY, THEME IT!
You could order the heart shaped pizza featured here by calling your local pizza place and asking for it. Here are some places that have it. Or you could go for these chocolate-covered strawberries, bacon hearts or these ambitious gummy hearts.
Plus, if you're hoping for some sexy flings to come out of the evening, anything relating to "finger" is a plus.
Activities, clearly.
These adorbs, DIY jewelry plates from Martha Stewart are great for a ladies-only party and just one idea for ways to keep your guests active and engaged.
By providing the supplies and instructions yourself, you'll make it easy for people to get busy bonding.
Other foolproof ideas include charades, Twister or decorating cookies.
Party favors and prizes, or get out.
Isn't life one big competition anyway? You might as well hand out prizes to guests for being bold enough to attend a party on arguably the best night to stay in, get drunk by yourself and watch Jason Biggs films.
These gifts can act as party favors or prizes if you get into any kind of games or competitions (like Spin the Bottle or Pin the Heart on the Cupid).
Prizes like this sexy, take-home toy kit from Lelo are ideal for this time of year. And honestly, these are the gifts that keep on giving... orgasms. Giving orgasms is what I'm saying. 'Cause it's a sex toy.
Trash dating, UGH.
What better time to make fun of the dark, seemingly never-ending abyss that is dating than to make fun of it? Swap and share stories of terrible dating fails or take bets on who has the worst breakup story.
Or get the gang involved in your online dating life and whip out something like the Hater app, which is one of my new favorite ways to meet people and still keep my judgmental chip on my shoulder.
Insider deets: This app matches you up with folks based on the things you HATE. I know. Romantic.
Good company, or I can't even.
At the end of the day, it doesn't matter where you are or what you're doing, it just matters who you're with. And trust me, it definitely does NOT need to be with a significant other.
Some of the best, purest kinds of love come from friends and family, so be sure to invite the people who make you feel your best and most adored...
...you know, as long as they're single, of course. Rules are rules.
Citations: Bacon Hearts (Paper Mama)